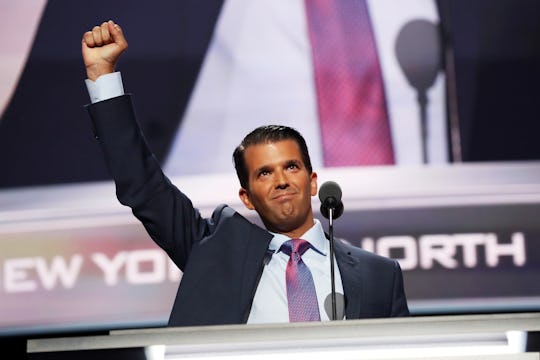 Joe Raedle/Getty Images News/Getty Images
Funniest Tweets About Donald Trump Jr.'s Nature Photo
With President Donald Trump in the White House, his older children have gotten equally as much attention. Donald Jr., Ivanka, and Eric Trump are all business people and have a major stake in their father's companies, so it's only natural for there to be a spotlight on them. On Saturday morning, the New York Times published a profile on Trump's oldest son, Donald Jr. But instead of the profile, people paid more attention to the article's lead photo of Donald Jr. looking very out of place in nature. The funniest tweets about Donald Trump Jr.'s New York Times photo show that you can take the man out of the luxury Manhattan penthouse — but you can't take the luxury Manhattan penthouse out of the man.
The photo is the first thing you see when you click on the article on the New York Times' website — and it's hard to miss. Donald Jr. sits perched on a tree stump, his head stoic, and his position looks incredibly uncomfortable. His outfit of denim and flannel is a far cry from what outfits the public is used to seeing Donald Jr. in — an expensive suit with his hair slicked back. His awkward appearance in the middle of the woods made Twitter users laugh, too — and inspired some pretty great reactions.
Seriously, the jokes about the photo write themselves.
All jokes aside, the New York Times profile on Donald Jr. does reveal some interesting things about the president's oldest son. While Donald Jr. may look out of place, perched on a tree stump in the woods, according to the profile, that's actually the place where Donald Jr. feels the most comfortable. According to The New York Times, Donald Jr. has been spending his time outdoors, away from his hometown of Manhattan, New York since he was a child. During this time outdoors, his maternal grandfather taught him hunting and fishing — which is something that he still actively does to this day. In fact, if he could have it his way, Donald Jr. would spent all of his time outdoors, rather than managing his father's businesses in New York. "If I could miracle myself away," he told the New York Times, "I'd live out west."
While Donald Jr. claims he feels most comfortable in nature, his photo in the New York Times begs to disagree. In the photo, he comes across as a little forced, awkward, and completely out of place — and of course, Twitter users are here to hilariously point that out.