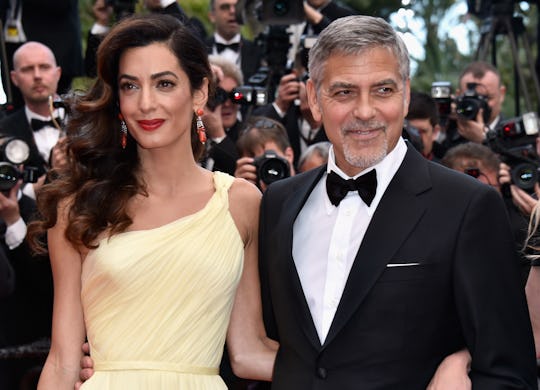 Pascal Le Segretain/Getty Images Entertainment/Getty Images
George & Amal's Twins Already Have Twitter LOL'ing
I don't know what is in the water, but it must have recently been spiked with Twin Powers, because two of the most important couples on the face of this solar system — don't mind that huge hyperbole, but hey, it's true — are currently expecting twins. First, Beyoncé and Jay Z announced they were expecting twins. Now, George and Amal Clooney have announced they're expecting twins, too. What is in the ~fancy people's water~ that is spawning this trend? Either way, the announcement has launched some pretty funny tweets about George and Amal Clooney's twins that you're going to want to check out.
When Beyoncé announced that she was having twins, the entire world thought — wow, in the current climate, what did we do to deserve TWO more Beyoncés. Well, let's use the same logic for Amal Clooney's soon-to-be bundles of joy. We've got a president with a wonderfully low approval rating, and TWO more Amal Clooneys (a.k.a., two children with the blood of the baddest, fiercest, boss person out there running through them). It is truly a fortunate time in the celebrity baby realm, and we should just sit back, enjoy the view, and take in these seriously funny tweets about the news.
You have to admit, the idea of Beyoncé and Amal both announcing they're having babies — let alone twins — within a week of each other feels very coincidental. Maybe there is a stronger force at play that is telling us: You. Need. More. Badasses.
The world is not ready for this jelly, in case you couldn't tell. More Amals means more people fighting ISIS. More people who stand for powerful women. More people who prove that Hollywood's leading men known as THE eligible bachelor that everyone wants to work with is still not the coolest person in the relationship.
We are not worthy of this type of power. But, since this is what we were given, please thank the baby gods (and Amal and George Clooney) for their contribution to human society.