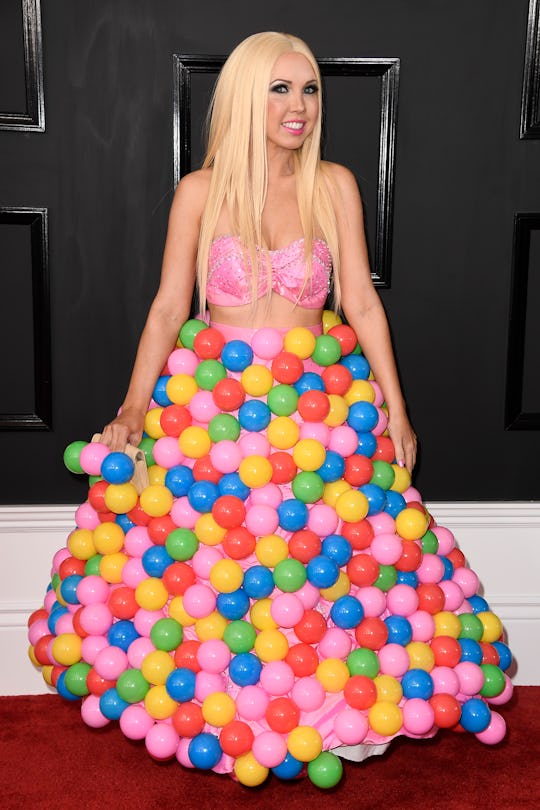 Frazer Harrison/Getty
Twitter Went Nuts Over Girl Crush's Grammys Outfit
No awards show is really about the awards themselves. It's about the red carpet. And at the Grammys, you've got a lot more leeway to go truly unexpected with fashion. The 2017 Grammys was no exception. The funniest tweets about Girl Crush's outfit prove that it doesn't matter who you are as long as you're willing to wear a crazy ensemble on the red carpet.
So the thing is, no one actually seems to have any idea who this Girl Crush person actually is. A little research tells me that she's an L.A.-based pop singer, and she apparently knows how to get herself attention. She may not be a household name, but she knows how to draw the eyes at the Grammys, which, considering the kinds of outfits usually seen on the Grammys red carpet, is no easy feat. Unfortunately, not all the attention she got was the good kind. On Twitter, people seemed mostly either confused as to who she is, and suffering a little second-hand embarrassment over this bizarre outfit. I mean sure, why not wear a skirt made of balls from the Chuck E. Cheese ball-pit with matching bedazzled crop top? This is the Grammys, we have no rules here.
This particular Tweet really kind of nailed it on the head. I'm not going to say for sure that she's just out for attention. But then again, well kind of, yes it appears that way.
Other people say that the Grammys are a joke so far. Which is funny because haven't the Grammys always been kind of a joke? Remember when Bjork wore the swan dress? That was at the Grammys because this is what you wear to the Grammys. The beautiful couture ballgowns and breathtaking fashion is for the Oscars, a much more sedate affair. At the Grammys, you wear something loud and bizarre and fun that people will talk about the next day. Girl Crush may be largely unknown in music at the moment, but she definitely knows what the deal is.
Her bio on MTV calls her the "princess of goofy hot" and says, "Do you have a.... girl crush?????? Fresh out of the shiniest, surliest toaster: meet LA's newest pop tart: Ella! Her mission is madness and fabulous mayhem." This tells me almost nothing at all, but I like the commitment to the aesthetic. Who knows, maybe at the 2018 Grammys we'll all be obsessed with her.