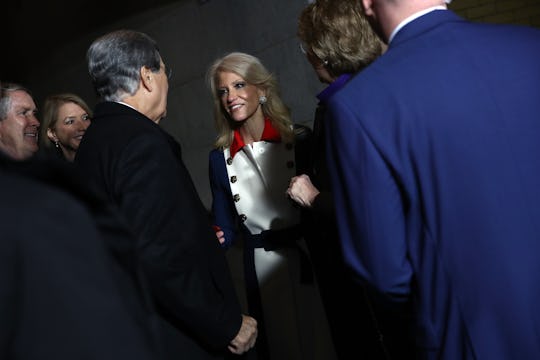 Win McNamee/Getty Images News/Getty Images
Funniest Tweets About Kellyanne Conway's Outfit
As Donald J. Trump prepares to take the presidential oath of office later Friday morning, social media has been abuzz about the fashion choices of the day, from Melania's powder blue jacket and skirt to Michelle Obama's stately burgundy dress. But there's definitely one member of the incoming transition who has definitely hijacked the fashion spotlight on Inauguration Day: White House counselor Kellyanne Conway. Boy howdy, there's a lot goin' on there with her, um, patriotic choice of attire Friday morning — and Twitter is all over the place about her outfit. The funniest tweets about Kellyanne Conway's outfit are a much-needed dose of levity Friday morning.
Now, before you think that perhaps this was an outfit that Conway whipped up herself — no, no, no: Conway is wearing a $3,600 Gucci jacket on Inauguration Day. Made of wool, it has a silk lining, so you know Conway is definitely nice and toasty for this otherwise cold and dreary day in Washington. Look, it's Conway's 50 birthday, so maybe she treated herself to a present after having quite possibly the hardest job in the world managing Trump's campaign. While some tweets have been downright cruel — folks, what happened to "When they go low, go high" again? — others have made some shockingly astute and hilarious comparisons of Conway's outfit to some other fashion inspirations.
First, there was Paddington Bear:
The The Daily Show's keen "revolutionary war soldier" reference:
And then the comparisons of Conway's inauguration outfit just took off from there:
Thankfully, Harper's Bazaar has the chutzpah to ask the question that's on everyone's mind Friday morning:
Other folks on Twitter had their own fashion commentary:
But perhaps some of the funniest tweets were the ones that added their own pointed political commentary:
Clearly, Conway took the inauguration theme of "Uniquely American" to heart — perhaps a bit too much to heart? But then again, that's to be expected of someone who was probably Trump's biggest cheerleader on the campaign trail and, if I'm going to jump on the snark train too, all that's missing are red, white, and blue pom poms from her outfit. Even so, if Conway was looking to keep a low profile and out of the headlines on Inauguration Day, that rather loud Gucci wool coat was not the way to do it. But I will admit that you have a level of confidence like no other to wear that out of the house this morning.
Happy birthday, Kellyanne!