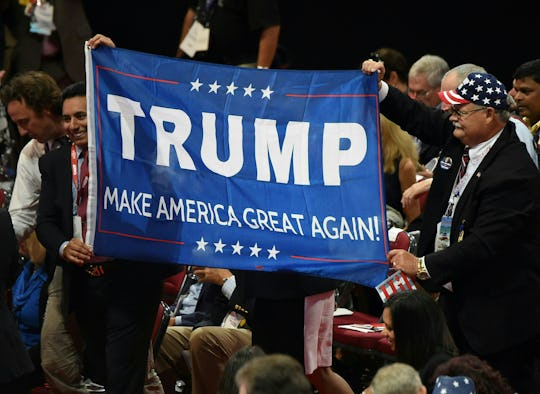 ROBYN BECK/AFP/Getty Images
Funniest Tweets About The Republican National Convention Highlight The Chaos of Trump
The Republican National Convention kicked off on Monday, and already the situation there has bypassed regular old hot mess to head straight to "average summertime temperature in fifty years if Donald Trump wins and America keeps denying climate change" level mess. Luckily, in a time of uncertainty and terror about the future of the country, you can always count on Twitter. And the funniest tweets about the Republican National Convention help ensure that you can laugh at least a little, along with all the crying.
To recap the important info about the convention, it's taking place in Cleveland from July 18 through July 21. By the end of it, Donald Trump will officially be crowned the Republican presidential nominee and, supposedly, the party will be unified after a long, insanity-filled primary. But at least on at the first day of the convention, party unity wasn't looking so good. Ohio Gov. John Kasich still refused to support Trump, and the Trump campaign fired back, calling him "petulant." Then, chaos erupted on the convention floor after a voice vote shut down the "Never Trump" faction of delegates wanting to change convention rules so that they would not have to pledge their support to the candidate.
Those on social media were not surprised by the chaos, although many also expressed a wish that it would not turn violent, something that seemed possible given the increasingly nasty rhetoric being used by the Trump campaign to woo voters.
And in response to unconfirmed reports that the convention secretary was literally hiding from anti-Trump delegates hoping to submit signatures calling for a vote on changing the convention rules:
Others had plenty to say about the candidate, and the particular qualities he'd be bringing to the convention:
Others were happy to mock the band the RNC chose to open the festivities, which seemed to lack a certain professional polish:
And some, like Bob's Burgers actor Eugene Mirman, had a field day with the announcement that Trump had selected has-been actor Scott Baio to speak at the convention:
Some documented the protestors who came prepared to combat the hatred with humor:
And one user highlighted perhaps the most efficient way to get through the convention:
Overall, it seems possible that the convention may evolve into a full-on dumpster fire:
But here's hoping that such a dumpster fire doesn't actually result in anyone getting hurt. And maybe the upheaval at the convention will even cause those thinking of voting for Trump to reconsider whether they really want to support demagoguery, hatred, and chaos.