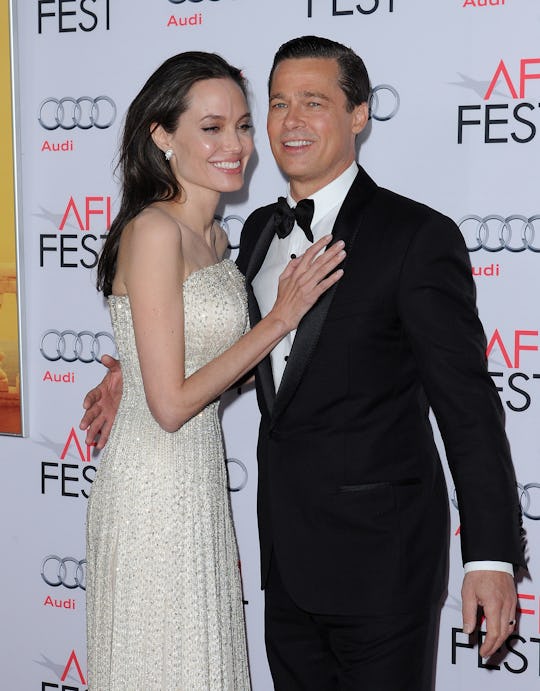 Axelle/Bauer-Griffin/FilmMagic/Getty Images
Funniest Twitter Reactions To Angelina Jolie & Brad Pitt's Divorce
The celebrity world was shocked Tuesday morning, when TMZ reported that after two years of marriage, Angelina Jolie has filed for divorce from Brad Pitt. The news comes as somewhat of a shock; the couple has been together since 2004 and have six children together. Still, with shock comes the need for humor, which is why it didn't take long to find some of the funniest twitter reactions to Angelina Jolie and Brad Pitt's divorce. Our collective need to make light of a a serious and probably painful situation might be insensitive, sure, but I argue that it's also how our society has learned to process some pretty disturbing news and, make no mistake, this split is going to sting for a while.
Romper reached out to both Pitt's and Jolie's representatives and attorneys for comment, but have received no response at the time this article was published. A statement given to Reuters by Jolie's attorney Robert Offer read: "This decision was made for the health of the family. She will not be commenting, and asks that the family be given its privacy at this time."
In a statement provided to PEOPLE, Pitt said:
I am very saddened by this, but what matters most now is the well being of our kids. I kindly ask the press to give them the space they deserve during this challenging time.
The funny twitter reactions should not, under any circumstance, downplay the seriousness of this divorce. A family "splitting up" is a serious matter, especially when kids are involved. While the media circus is sure to cover the Pitt/Jolie divorce ad nauseam, it's important to remember that a family and six children are at the center of it all. The decisions that both Jolie and Pitt will have to make in the coming days (custody, etc) will be difficult choices, to be sure. Still, fans of both are taking to twitter to voice their hilarious takes, because sometimes humor is the only way to process information this shocking.
Here are just a few of the many, funny twitter takes fans and us run-of-the-mill humans have on Jolie filing for divorce from Pitt.
Of course, most remember the somewhat scandalous start to #Brangelina. Pitt, at the time, was married to America's Sweetheart, Jennifer Aniston, when he met Jolie on set for their highly-successful film Mr. & Mrs. Smith. Jolie went on to gush about the chemistry she shared with Pitt on set, even though she was well aware (as she didn't live under a rock) that he was married to Aniston.
The two were together since, and have six children together. All jokes aside, knowing that so many children will be in the middle of what is sure to be a highly publicized divorce is easily the most heartbreaking aspect of this split. Fans can go on about "karma" and Anniston getting the "last laugh," and this and that, but families separating is always a serious business that no 140 character joke should downplay.
So, yes, while it isn't horrific to laugh and try to come to terms with a divorce as surprising as this one, let's all remember that, in the end, this is a big deal to six children who deserve their privacy.