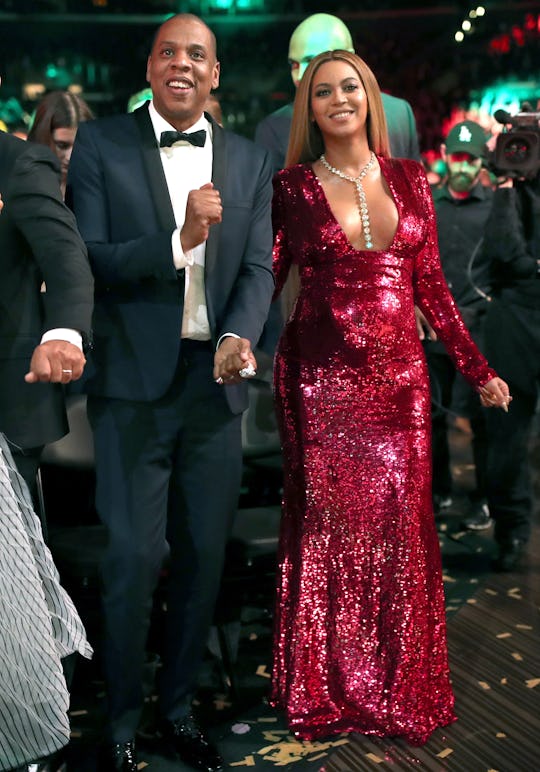 Christopher Polk/Getty Images Entertainment/Getty Images
Twitter's Hilarious Response To The Birth Of Beyoncé's Twins
Praise Bey! On Saturday evening, Us Weekly reported that singer, songwriter, and all-around queen Beyoncé had purportedly given birth to twins with husband and rap mogul Jay Z. The new additions join 5-year-old big sister Blue Ivy Carter, who was born in January 2012. Unsurprisingly, the news began making the rounds quickly (despite no official immediate confirmation from the singer's rep) with Twitter delivering plenty of perfect reactions to Beyoncé's twins and their long-awaited arrival.
UPDATE: TMZ reported on Sunday that Beyoncé's twins were still in the hospital for a "minor issue," but, according to a source, were "expected to be okay." Beyoncé herself was also reportedly still in the hospital, but would likely be "okay" as well, the source claimed. The outlet did not know the nature of the twins' condition. Later on Sunday, Us Weekly reported that, according to anonymous sources, Beyoncé and Jay Z had welcomed a baby boy and baby girl. The singer's reps did not immediately confirm the reports or release the twins' names.
EARLIER: The initial information was scant —Us Weekly claimed to have confirmed the news with "multiple sources" — the outlet stated that Beyoncé had reportedly welcomed the twins earlier in the week. (Romper has reached out to Beyoncé's rep for comment on the report and is awaiting a response.)
Of course, if true, it meant that the twins were Geminis — the astrological symbol represented by The Twins Castor and Pollux from Greek and Roman mythology (who were also Helen of Troy's siblings and, at least in Pollux's case, the son of god Zeus... mythology is complicated, so please don't ask). Traditionally, as Astrology.com puts it, Geminis are seen as "fickle and restless" by outsiders, are supremely curious, and have a penchant for chatting up just about everyone. Needless to say, if the reports were really true, Beyoncé definitely has her hands full moving forward.
Within minutes of the twin's reported arrival, social media lit up as fans discussed the meaning behind the twins' astrological symbol, whether or not the rumors were actually true, and basically just lost their collective minds:
The twins' names and genders weren't immediately clear, although that didn't exactly stop fans on Twitter from offering up their own theories and suggestions.
"Y'all think Beyoncé will name the twins Red and Green Ivy?" joked comedian @Ziwe. Another user seemed content with the idea — or at least part of it. "If Beyoncé has her twins on the Fourth of July and doesn't name them red and white, she's wasting everyone's time," they tweeted.
As far as gender was concerned, one fan had the ultimate suggestion. "If Beyonce's twins are girls, the twins and Blue can form a girl group called Destiny's Grandchildren and that's ALL WE WANT," joked @RobMRosenberg.
In the end, it's likely Queen Bey will wait to announce the news officially in her own time and in her own way, Twitter speculation be damned (though, for all of our sakes, let's hope she announces it on Instagram with a spectacular video of the twins performing the "Single Ladies" routine or something).
Bless up.