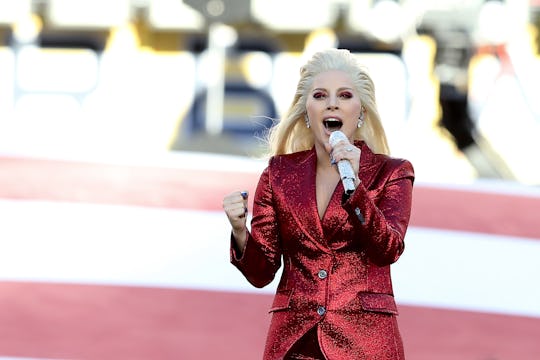 Streeter Lecka/Getty
Funniest Twitter Reactions To Lady Gaga's National Anthem At The Super Bowl
Lady Gaga got Super Bowl Sunday off to a great start. The singer-slash-Golden Globe-winning actress took to the stage (in super high platforms, no less) to belt out the National Anthem. And it was pretty freakin' amazing. Of course, the Internet was not without reaction. Though many of the messages supported the singer's performance, some of the funniest Twitter reactions to Lady Gaga's National Anthem rendition were to offer commentary on her outfit and early praise for Beyoncé (because nothing about this night could really be about anything other than Queen Bey).
Overall, people were blown away by the singer's rendition of "The Star Spangled Banner." Donning a red jumpsuit and platform wedges (one with stars, one with stripes), Lady Gaga didn't miss a beat. She even pulled off some Mariah Carey-like belting towards the end of the song. That's gotta earn her some applause, right? (Yes, I went there. You can't talk about Lady Gaga and not reference past works, right?)
Little Monsters and non-fans alike were truly in awe of the singers performance. But since we live in the day of online commentary, there were a few haters who just couldn't keep their opinions to themselves. Luckily, the comments were light-hearted and humorous enough that even Gaga would probably laugh out loud.
Never Forget The Queens
That Outfit Though
I mean, the Internet is going to...be the Internet. But folks can say what they want: Gaga showed up and swiftly laid down an undeniable reminder of what a casual powerhouse she always is.