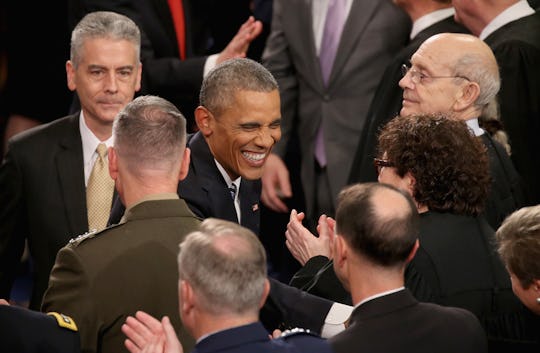 Funniest Twitter Reactions To The State Of The Union Will Make You Miss Obama Already
The State of the Union is one of the few times of the year when all eyes are trained on President Barack Obama, as well as those seated directly behind him, Vice President Joe Biden and new Speaker of the House Paul Ryan. It's an important night, filled with weighty messages about the direction of the United States — balanced out with the funniest Twitter reactions to the State of the Union. (Let's have a moment of silence for the end of the John Boehner meme era.)
This year's State of the Union is especially significant, as it's Obama's last time addressing the nation. It's also significant for the funny people who populate Twitter because, really, when's the next time we can expect to have a president with this much straight-up cool going on? That doesn't mean we don't have good things to look forward to, at least in terms of great Twitter reactions: Pending the results of the 2016 presidential election, this time next year, the person speaking to the country could be a woman for the first time. Or a former Apprentice host. Let that sink in for a second.
For now, Twitter gave Obama (and Biden) the send-off he deserved. Check out the best reactions to Obama's final State of the Union:
Thanks for the memories, President Obama... And Twitter.
Image: Mark Wilson/Getty