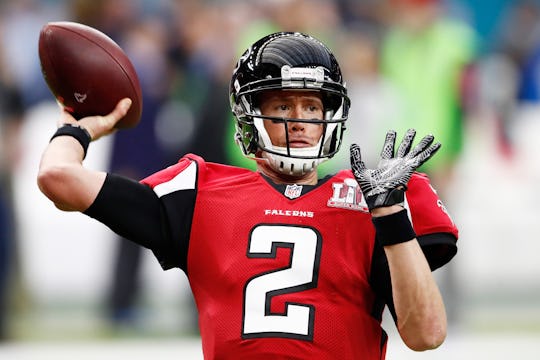 Gregory Shamus/Getty Images Sport/Getty Images
Funny Matt Ryan Memes For Super Bowl 51
The Super Bowl is one of the most watched televised events of the year and the creative minds on social media have used this opportunity to celebrate some of the best moments. One of those big moments can be remembered through these funny Matt Ryan memes. The Atlanta Falcon's quarterback was just named the NFL's most valuable player before he played in his first Super Bowl. He has been with the team for nine seasons.
Even though he's been playing professional football with the NFL for almost a decade, the 31-year-old quarterback was only recently thrown into the spotlight just prior to Super Bowl 51. According to CNN, Ryan, nicknamed "Matty Ice," wasn't seen as a "can't-miss kid" when he was growing up, but he ultimately replaced a Falcons icon: Michael Vick, the superstar quarterback who played with the team for six seasons, but left in 2007 to serve a prison sentence for his role in a dogfighting ring, according to Bleacher Report. Vick is now retired from the NFL.
Over the past nine years, people have certainly had their eyes on Ryan. But even though Sunday night's showdown isn't his first NFL rodeo, it looks like all of the hype caught up with the Super Bowl first timer. Before the Super Bowl got started, sports broadcaster Erin Andrews was giving an injury report and listed his teammates Julio Jones, who has a toe injury, Alex Mack, who has a fibula injury, and Ryan, who the broadcaster said has "Super Bowl nerves."
If you're not a huge football fan and weren't entirely sure who Ryan was before tonight, don't worry, you're not alone. According to Fox News, "Ryan has remained virtually invisible to casual NFL fans" and his athletic performance tonight could "springboard" him to a higher celebrity status. And with a nickname like "Matty Ice," the possibilities are endless. Especially in the world of jokes and memes on social media:
Let's have a look at some of the funniest jokes and memes about the Super Bowl's most exciting offense and the NFL's 2017 MVP:
To the outside world, the race for the MVP title was pretty open. But, as Fox News reported, "Ryan took the award in a landslide, easily beating his Super Bowl opponent Tom Brady in the voting" after throwing for nearly 5,000 yards and leading the Falcons to an 11-5 record. Ryan reportedly knew that he won the coveted award last week, but kept it a secret because the team did not want it to get out on social media, according to USA Today.
As Sunday night's showdown has proven, all of the titles, trophies, and new fame tend to go hand-in-hand with internet notoriety, giving fans plenty of opportunities to have a little fun during the big game.