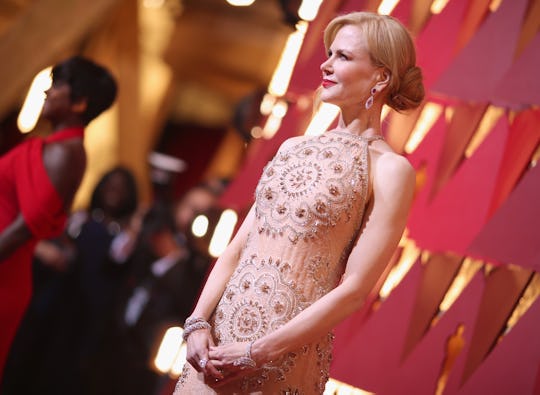 Christopher Polk/Getty Images Entertainment/Getty Images
Nicole Kidman Is Having A Great Time At The Oscars
Watching your favorite celebrities might just be the best thing about awards show season, and at the 2017 Oscars on Sunday night, the reactions were anything but disappointing. But these "funny" tweets about Nicole Kidman's clapping at the 2017 Oscars prove that Twitter is missing the point: She's having fun, y'all. As she should be.
Kidman attended the Oscars with husband Keith Urban, and was nominated for Best Supporting Actress in the film, Lion. Although she didn't win the award, Kidman did capture the attention of viewers, but for reasons that really shouldn't matter. Twitter was ablaze with jokes and memes about Kidman's clapping, poking fun at the actress and her seemingly awkward hand movements. Really, though? Why does it matter? Sure, it's all fun and games, but when we've got a reality television star as our president, do we really need to waste our time making fun of a women's hand gestures? Personally, I think we could do more with Trump's ill-fitting suits, if we really want to make fun of anything.
But, alas, none of those thoughts stopped Twitter users Sunday night, who had way too much fun making all of the jokes about what Kidman looked like while she was applauding at the event, because apparently, women can't just live.
Honestly, it wouldn't really be that surprising if Donald Trump himself decided to take a jab at Kidman, as he isn't exactly a stranger to making fun of actresses who are more successful and well-spoken than he is.
Trump went on a bit of a Twitter rampage against Meryl Streep after her speech at the Golden Globes, in which she famously said, "this instinct to humiliate, when it's modeled by someone in the public platform, by someone powerful, it filters down into everybody's life, because it kind of gives permission for other people to do the same thing."
And since regular Twitter users are already having a field day with Kidman's hands, it wouldn't be that shocking to see Trump wake up on Monday and decide to give his own two cents about the "failing" mainstream media, especially Kidman's clap.
Really, Kidman's clap is not all that weird, y'all. She was probably wearing heavy jewelry, or had just had an expensive manicure done. Girlfriend is just doing her, and that's all that should matter.
Just keep doing you, Nicole. Your many awards and nominations clearly agree with you.