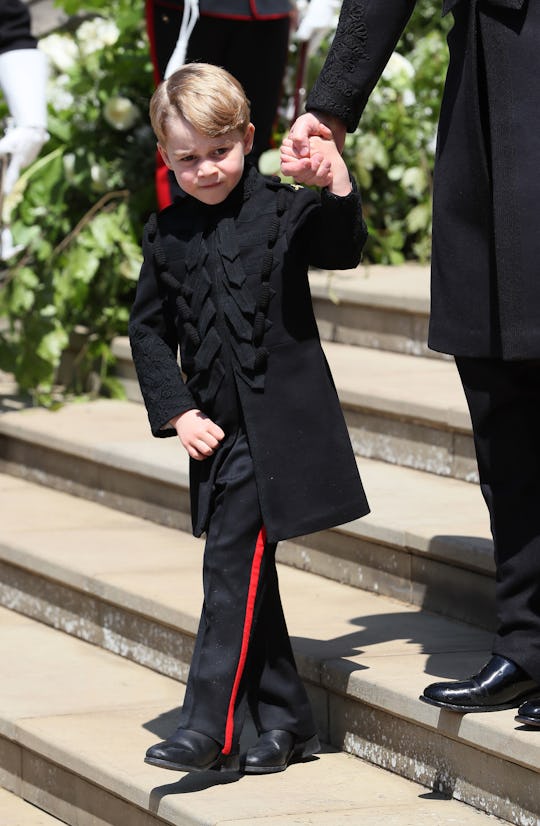 WPA Pool/Getty Images Entertainment/Getty Images
Funny Tweets & Memes About Prince George During The Royal Wedding Will Give You Life
On Saturday, May 19 — bright and early, if you tuned in from the U.S. — all eyes were on the royal wedding of Prince Harry and Meghan Markle. And it was pretty much like Christmas morning for die-hard fans of the royal family. Between the endless lineup of royal tradition, the extravagantly fancy hats and dresses, the excitement of seeing the bride in her gorgeous gown, and the overall fanfare of the most highly-anticipated wedding of the year, there were so many details keeping us glued to our screens. As romantically regal as the nuptials between Prince Harry and Markle were, many would argue that Prince William and Kate Middleton's children were the ones who stole the show. And these funny tweets and memes about Prince George during the royal wedding will give you life.
For the record, two of the young royal heirs to the throne had official roles on their uncle's big day, Time reported. Princess Charlotte, 3, was a bridesmaid and Prince George, 4, was a page boy. These are basically just fancy terms for the gaggle of children trailing behind the bride and holding her train/veil as she walked down the aisle. And they certainly made their mark during the ceremony held in St. George's Chapel at Windsor Castle. As far as the little ones are concerned, it all began when the royal siblings — along with the eight other bridesmaids and page boys — arrived at the chapel. Um, can you say cuteness overload?
Viewers got another dose of adorable as Prince George was walking down the aisle behind his soon-to-be-aunt. What made this moment particularly memorable was the fact that the young prince seemed to be carrying on a full conversation with a fellow page boy the entire time they were walking with Meghan Markle. It was equal parts sweet and funny, to be honest.
That was also about the time the memes/hilarious commentary surrounding Prince George at the royal wedding began on Twitter. Like this gem, for example: "Prince George will be starring in the remake of Home Alone in 2022." But seriously. Is he not totally channeling Macaulay Culkin, here?
Another spot-on meme involving Prince George honed in on his apparent lack of enthusiasm while waving to Prince Harry and Meghan Markle following the ceremony — especially when compared to his little sister, Princess Charlotte. One Twitter user captioned a video clip of the hilarious juxtaposition with, "princess charlotte is me at the beginning of the school year and prince george is me .05 seconds into the semester." LOL. It seems the prince was totally over his royal duties at this point during uncle Harry's big day. Take a look for yourself.
Another Twitter user put a different spin on the clip. "Prince George: 'Dad are we done? I wanna go see the Spice Girls.'" I mean, three of the five former bandmates — Victoria Beckham, Emma Bunton, and Geri Horner — were invited to the royal wedding after all, The Sun reported. So I would be chomping at the bit to meet them, too.
Still other Twitter users focused on the princes's general "over it" attitude while waiting on the steps outside St. George's Chapel. "Prince George being completely in 'PEOPLE ARE SO ANNOYING' mode," one person captioned a photo of the 4-year-old hiding behind his dad's arm.
Twitter users also turned Prince George's outfit — which was an (undecorated) mini version of what his father, Prince William wore, Town & Country magazine reported — into a variety of hilarious memes.
(In case you're wondering, "Corellian Bloodstripes" is a Star Wars reference.)
And what the heck, I'll just throw in this awesome Big Little Lies reference for good measure.
So yeah. Those who were hoping Prince George would deliver in both cuteness and in the hilarious meme department shouldn't have been too disappointed today. Because where Prince George and Princess Charlotte go, adorable kid shenanigans are sure to follow — even at a royal wedding.