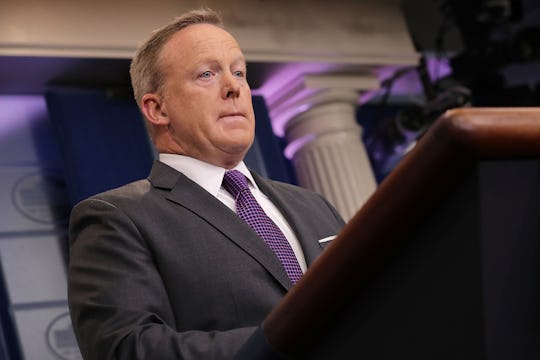 Chip Somodevilla/Getty Images News/Getty Images
The Internet Was Made For Sean Spicer's Resignation
Oh, Spicey. The country was just getting to know you when you decided to split as White House press secretary. If you're bummed about the news, don't despair. Here are funny tweets and memes about Sean Spicer's resignation to tie you over. Because, really, the internet was made for this.
According to the New York Times, Spicer stepped down as chief spokesperson on Friday afternoon after New York financier Anthony Scaramucci accepted the job as White House communications director. Spicer had strongly opposed the decision to hire Scaramucci, a former campaign fundraiser for President Donald Trump, the Times reported. Trump had asked Spicer to stay on as press secretary, but had made the decision to quit nonetheless, according to CNN.
Spicer's tenure as White House spokesperson has been a roller coaster, to say the least. As multiple news outlets have reported, Trump's public statements and tweets often undercut Spicer's role as press secretary, a role he'll remain in until the end of August. Deputy Press Secretary Sarah Huckabee Sanders will take over his post, according to Talking Points Memo.
Washington insiders say Spicer's resignation was a long time coming. And of course, people on social media couldn't help but have fun with the news.
Spicer is not the only White House official to resign after a tumultuous tenure on Capitol Hill. According to the New York Times, Scaramucci is replacing Mike Dubke, who resigned from his brief stint as communications director in May after clashing with President Trump. And like many of the people Trump has hired in his administration, Scaramucci doesn't come to the job with a whole lot of relevant experience, the Times reported.
According to Cnet, Spicer tweeted upon announcement of his resignation,
It's been an honor & a privilege to serve @POTUS @realDonaldTrump & this amazing country. I will continue my service through August
Admittedly, Spicer was terrible at his job, so this is not a major loss for the White House administration (although no one is expecting Huckabee Sanders to be any better). As Gizmodo breaks down, the soon-to-be former White House press secretary couldn't communicate clearly, attacked the press at every turn, lied a lot of the time, and stumbled over his own words. There was even that one time Spicer hid among the bushes, away from journalists, until they promised not to film him answering questions. It was one of his more ridiculous moments.
Either way, enjoy your ride into the sunset, Spicey.