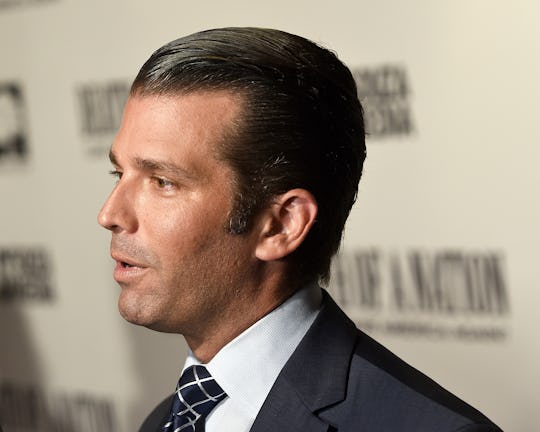 Shannon Finney/Getty Images Entertainment/Getty Images
People Are Furious With What Donald Trump Jr. Just Said About The #MeToo Era
In the aftermath of Supreme Court nominee Brett Kavanaugh and Dr. Christine Blasey Ford testifying during a public hearing on Thursday, Sept. 27, there have been plenty of, well, interesting reactions to the debacle. President Donald Trump, for example, has lauded Kavanaugh's testimony as "powerful, honest, and riveting." Regardless of how "convincing" individuals found the judge's yelling and crying, an FBI investigation is currently underway.And apparently, Donald Trump Jr. is more scared for his sons than his daughters in the midst of the #MeToo era.
As you've probably heard by now, Dr. Christine Blasey Ford alleges that Kavanaugh sexually assaulted her when they were both in high school, according to The Washington Post. Thirty-six years later, she has come forward to share her testimony with the Senate as they consider him for a spot on the highest court in the nation. Although Blasey Ford spoke deliberately and concisely about her alleged encounter with the Supreme Court nominee — and is considered a credible source by many — judiciary committee Republicans ultimately voted Kavanaugh through to a Senate floor vote, which will be delayed pending a week-long FBI investigation.
During an interview with DailyMailTV — alongside his girlfriend Kimberly Guilfoyle — Donald Trump Jr. gave his two cents on the whole Kavanaugh ordeal last week, according to The Cut. And his comments included a particularly curious takeaway from the #MeToo era as a whole. "I've got boys, and I've got girls. And when I see what's going on right now, it's scary," the father of five said, according to ABC News. When asked whether he was scared for his three sons or his two daughters, Trump Jr. answered, "I mean, right now, I'd say my sons."
Well, then ... As you can probably imagine, Twitter had an absolute field day with Trump Jr.'s concern for his sons. One person tweeted, "Hey @DonaldJTrumpJr, I have some unsolicited advice for you: Don't raise rapists and you have nothing to worry about with your sons."
Another Twitter user pointed out, "If he raised his sons to respect others and to be honest, kind humans, he wouldn't have to worry about them at all!!"
Yet another Twitter user wrote, "I'm scared for his sons too. Look at their male role models. Terrifying."
Still, others weren't exactly surprised by Trump Jr.'s apparent lack of concern for his daughters' significantly higher chances of one day being victims. One person tweeted, "Coming from DT jr I wouldn't expect him to be the least bit concerned about his daughters. The apple doesn't fall far from the tree."
Another Twitter user wrote, "Wow... he really doesn't give a crap about females, even his daughters."
Yet another Twitter user chimed in with, "How Trumpian that he'd worry more about the accused than the victims. There are a whole lot more women who have been sexually abused than men who have been unfairly accused of sexual abuse. This guy is as bad or worse than his father."
Still, I think this Twitter user summed it all up pretty nicely. They wrote, "Sometimes I think fear is the only way of getting to rapey men. They think they are entitled to grabbing women, and the prospect of being convicted may be the only thing that holds them back. I know both R & D men who are worried. And frankly, with their behavior, they should be."
Trump Jr.'s girlfriend, meanwhile, actually had something intelligent to say to DailyMailTV. "I think it's important, in terms of doing an investigation, to get the facts out there and find out," Guilfoyle, a former Fox News host, said according to People. "It's very tough thirty five years later, but it doesn't mean it should be ignored." She added: "People need to be careful to understand the politics involved as well, and what motivations people may have."
Just for the record, false reporting comprises roughly between 2 and 10 percent of sexual allegations. Never mind that 1 in 5 women will be raped and 1 in 3 women will be sexually assaulted at some point in their lives. But yes, Trump Jr., by all means continue to be scared on your sons' behalf.