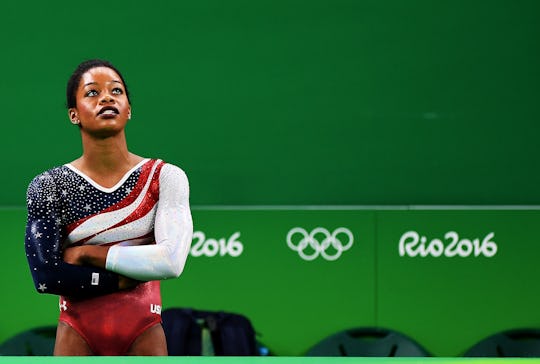 Laurence Griffiths/Getty Images Sport/Getty Images
Gabby Douglas' Mom Speaks About Online Bullies & Unfair Criticisms Of Her Daughter
During the Olympic Games it's natural for moms to start to conjure big dreams of international competition for their kids. But the road to a gold medal in Rio can be hard on more than just a body. Unnecessary criticism on a global scale can also be hard on your soul. Gabby Douglas is one athlete who's taken a lot of silly criticisms during Olympic competition and now Gabby Douglas's mom is speaking out against online bullies once and for all.
According to Douglas's mom, Natalie Hawkins, being bullied has left Douglas "heartbroken" and she has cried "many tears" over the criticisms lobbed at her during the Rio games, according to TIME.
She's had to deal with people criticizing her hair, or people accusing her of bleaching her skin. They said she had breast enhancements, they said she wasn't smiling enough, she's unpatriotic. Then it went to not supporting your team mates. Now you're 'Crabby Gabby'. You name it and she got trampled. What did she ever do to anyone?
It started during the 2012 games in London when Douglas won the coveted Olympic all-around title. She was the first black woman to do it, and it was a huge deal. But rather than focusing on her amazing achievement, Douglas was criticized for her hair. Her hair! People really can be just the worst.
Douglas could hardly believe her incredible accomplishment was being overshadowed by people's opinions about her hair. According to the Huffington Post, after seeing all of the comments, Douglas reportedly said to her mom, "Really?! I won two gold medals and made history and my hair is trending?"
In 2016, it was more than Douglas's choice of hairstyle that caught fire on social media, it was her choice not to put her hand over her heart during the Star Spangled Banner.
"I don't think respecting your country or your flag boils down to whether you put your hand over your heart or not," Hawkins said, according to Reuters. "It's in your actions towards your country, how well are you abiding by its laws, how well are you helping your fellow citizens?"
Good point.
Gabby was also called out for not appearing to be supportive enough of her teammates Aly Raisman and Simone Biles when they won silver and gold medals in the all-around competition.
Is there anything Douglas could do to escape the judgement of people on social media? Probably not. But it's hurtful and pretty unfair, and Gabby's mom has had enough of people bullying her baby. "I want ... people to show me if they have ever seen Gabrielle being disrespectful ... or say something inappropriate," Hawkins told Reuters. "There is nothing because for her being a role model is such a supreme honor."
And by every account, Douglas is a wonderful role model for her teammates and millions of girls everywhere with big Olympic dreams of their own.
"Gabrielle's had her heart broken, but she's determined she will go out (on Sunday) and she knows she still has a job to do for Team USA," Hawkins said. "It's a huge honor for me to be her mother as she's the bravest person I know."
As for Gabby, she's doing the smartest thing, "I've been trying to stay off the Internet because it is so much negativity," she said, according to Elle. "I've been through a lot. I still love them, still love the people who love me and the people who hate me. I'm just going to stand on that."