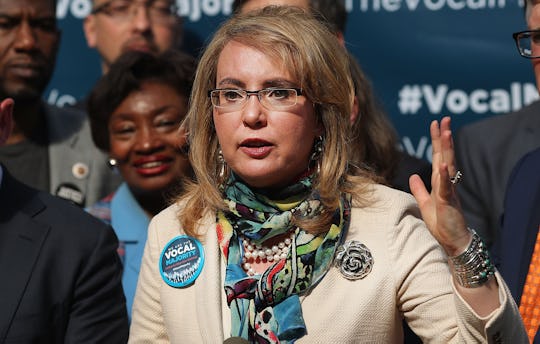 Spencer Platt/Getty Images News/Getty Images
Gabby Giffords Tells GOP Reps To Do Their Jobs
It's certainly not all fun and games for Republican members of Congress during their current weeklong recess, during which progressive activist groups are pressuring them to face their constituents. The GOP elected officials who have chosen to hold meetings with those in their districts have faced passionate crowds hammering them on issues ranging from President Trump's proposed border wall to the refugee program to Russia's alleged interference in the election. So, some are retreating entirely — like Texas Rep. Louie Gohmert, who used a 2011 assassination attempt on former Arizona Rep. Gabby Giffords to explain his decision to have telephone town halls instead of real, in-person ones. But Giffords herself is telling legislators to hold town halls anyway, imploring them to "have some courage."
"To the politicians who have abandoned their civic obligations, I say this: Have some courage," Giffords said, in a statement released on Thursday by the gun-control advocacy group Americans for Responsible Solutions. "Face your constituents. Hold town halls."
Giffords was shot during a meeting with constituents in 2011 and spent years recovering from her injuries. But on Thursday, she tweeted that those concerned over angry audience members or public backlash taking over their own meetings — including Gohmert — should put those fears aside for the greater good. "I was shot on a Saturday morning," she said. "By Monday morning my offices were open to the public."
But Gohmert is just the tip of the iceberg when it comes to Republican elected officials hesitating to put themselves in front of voters who plan to confront them over Trump's plan to repeal and replace the Affordable Care Act, for example. In fact, watching their colleagues endure relentless, heated questions on that and other subjects — as Arkansas Sen. Tom Cotton did Wednesday night, when a woman demanded to know how he would replace Obamacare without stripping her dying husband of health insurance — seems to be spooking many from meeting with the people they are meant to serve.
"If you're there at a town hall meeting and there's hundreds of people there yelling at you, it's going to be a media event," University of Denver political scientist Seth Masket told the Associated Press. "They're calculating that the bad press they're going to get from not having a town hall is not going to be as bad as that."
Members of Congress having to stand before disgruntled constituents railing at them for their complicity with the Trump administration is, surely, bad optics. It was brutal for Senate Majority Leader Mitch McConnell at a luncheon in his home state of Kentucky, when detractors hounded him with questions on flashpoints ranging from health care to the environment to to a recent raid in Yemen — on which Trump signed off over dinner — that left several civilians and a Navy SEAL dead, according to The Lexington Herald-Leader. It was rough for Utah Rep. Jason Chaffetz, who ultimately slammed the protesters who took over his recent town hall with chants of "Chaffetz is a coward" and "Do your job!" as "a paid attempt to bully and intimidate."
After the Chaffetz incident, the Utah Republican Party claimed in a press release that members of grassroots organization Indivisible's Utah affiliate "surrounded a car" there and "denied members of his Congressional District from engaging their Congressman," according to The Washington Post.
The party went on to claim that town halls were simply too dangerous for party members to take part in:
This organized mob has displayed hostile, violent, and deliberately disruptive behavior, which is unfair to constituents as it hijacks town hall meetings to prevent any type of meaningful discussion. Because of this clear demonstration of violence, if congressional members feel they cannot provide adequate security they should consider tele-town halls to reach out to their constituents instead. If smaller, special interest groups want to meet, they can request meetings with their congressional leaders in controlled environments to minimize the chances of harm until these disruptive behaviors have ended.
And Republicans truly are opting to hide out. According to The Town Hall Project, just 19 Republican members of Congress are meeting face-to-face with their constituents at town halls during the week of their recess, while others will told "tele-town halls" or office hours. Frustrated voters are working to draw attention to their absences, which they see solely as attempt on the legislators' parts to protect their images, avoid looking weak, and to minimize any exposure that could jeopardize their reelection bids.
Taking cues from Indivisible's "Missing Members of Congress Action Plan," Tampa residents held a "constituent town hall" without Sen. Marco Rubio, whose likeness appeared on Where's Waldo?-styled puzzles, according to The Tampa Bay Times, and attendees recorded their grievances before a backdrop that read "Where's Marco?" The whole thing was live streamed on Facebook to call attention to the senator's absence. And across the country, Californians organized a series of "Have you seen my Congressperson?" rallies for Thursday to urge their Republican reps to show up.
Clearly, it's a tough time to be a Republican elected official at home. But, as assassination attempt survivor Gabby Giffords knows, hiding from a hard situation is not the answer. Legislators simply have a responsibility to the people they represent.