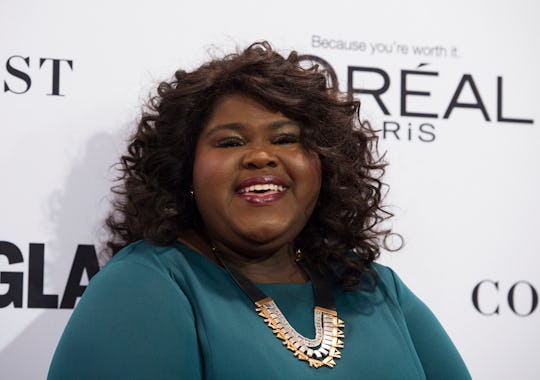 VALERIE MACON/AFP/Getty Images
Gabourey Sidibe Was All Of Us During Oscar Season
It's award season once again, and although there are plenty of awards show to watch, the one that's always highly anticipated is the Oscars. This year, past Oscar winners and nominees introduced the nominations and reflected back on their own memorable Oscar moments. And, of course, Gabourey Sidibe's Oscar nomination moment was as real as you'd expect it to be. Back in 2010, Sidibe got her first and only Oscar nomination (so far) for her leading role in Precious. The heartbreaking-turned-hopeful film saw a lot of buzz that year at the Oscars. Although Sidibe didn't go home with the award in the end, it was great to see her get recognized, and she thinks so too.
Unlike other people who say (or at least pretend) they're humbled by the moment, Sidibe said she felt completely different. "People are like, 'I'm so humbled by this moment.' Like, no, I feel like the (expletive) greatest," she said honestly. One of the greatest things about Sidibe has always been her confidence and it's clear she's still got it. The actress then went on to discuss how she got the role of Precious and how, for her, getting an Oscar nomination was fairly easy.
"I got to meet Lee Daniels, the director, and he just gave me the role after about 30 to 40 minutes of talking," Sidibe told People about snagging the role. "So I don't know how other people get nominated for Oscars, but for me it was hella easy."
Sidibe then went on to give those who just got nominated some advice for the awards show. "Get sleep when you can, sneak into the Oscars with a flask, and have a good time," she said. Sounds like pretty wise words to me!
Honestly, that was probably the best advice given in the whole video. Fans love Sidibe's honesty and downright funny talk about her own Oscar experience. Now I just want her to get nominated again so I can hear more of her candor. For now though, I'll have to settle for seeing her sass on Empire as Becky, which is created by the Precious director, Lee Daniels.
The actress also has a book coming out in May of this year, This is Just My Face: Try Not to Stare, which will surely be just as hilarious as everything else she does. Hopefully this is just the start of what is looking to be a great year for Sidibe.