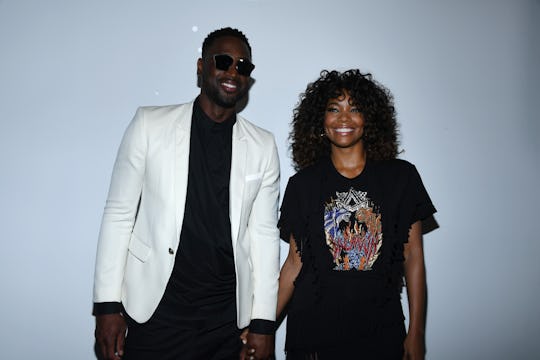 Pascal Le Segretain/Getty Images Entertainment/Getty Images
Gabrielle Union & Dwyane Wade Revealed Their Baby Girl's Name & It's SO Pretty
If you've been curious about what Dwyane Wade and Gabrielle Union named their new baby girl, the wait is over. That's because Wade revealed their daughter's moniker via Instagram on Thursday. Welcome to the world, Kaavia James Union Wade.
On Thursday, Nov. 8, Wade and Union announced the surprise birth of their daughter via surrogacy.
"A LOVELY DAY 👶🏾👶🏾👶🏾 We are sleepless and delirious but so excited to share that our miracle baby arrived last night via surrogate and 11/7 will forever be etched in our hearts as the most loveliest of all the lovely days," Union penned on Instagram. "Welcome to the party sweet girl!"
Adorable, right? It's clear Union and Wade can't be more thrilled to have a daughter.
Although the couple didn't reveal the baby's name at the time, they did share a few updates about life at home with their new addition.
"This baby smell though?! Heaven 👶🏾👶🏾," Wade captioned a shot of herself sniffing the newborn's head.
Um, can someone make a "baby smell" candle or something? I have a feeling that scent would be a bestseller.
OK, moving onto the baby's name. Wade revealed the gorgeous moniker via Instagram Thursday, writing:
#TBT Goes back to that one night in China when i decided to get my daughters name tattooed on me. Kaavia James Union Wade! #paternityleave
Given the timeframe here, it sounds like Wade and Union were planning on having a little girl for a while now. And they definitely chose a beautiful name for her — Kaavia is absolutely perfect.
As for Kaavia's meaning? It's an Indian moniker that is often spelled "Kavya," according to Baby Name Wizard. Translations include "intelligence, poetry, wisdom or prophetic inspiration," according to Pitarau.
Oh, and if you're wondering what James stands for, it's a family name.
When a fan asked Union about the name, she replied, according to E! News: "Great question. We wanted my family represented in her name. My godfather is my uncle James Glass. She is named after him.. and then Union...thats... ya know...me."
Aww. I have to admit, I'm a sucker for a family name.
Considering Wade and Union chose a gorgeous name for their little one, it's no surprise fans love it.
One person wrote on Instagram: "I love her unique name! 💖Can't wait to see her! I'm so happy for you two!"
"I love it!!! You got your girl on your shoulder!!!" someone said about the tattoo.
"So beautiful just love them both are great parents," another fan penned.
The fan who referred to Union and Wade as "great parents" is on the mark. Wade, for example, is taking time off of work to spend time with his new baby.
"With my daughter coming a couple weeks early, she's a little tiny right now, so we're making sure health-wise that she's OK," Wade explained, according to The Washington Post. "And for me, once I leave and go back to the season, not really being able to be with me everywhere I go, this time right now, this bonding moment with my daughter is the most important thing in my life at this time."
Yep, it's obvious little Kaavia is one lucky kid. Congrats again, guys.