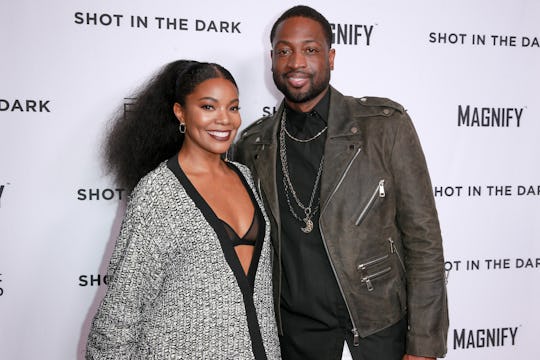 Rich Fury/Getty Images Entertainment/Getty Images
Surprise! Gabrielle Union & Dwyane Wade Welcomed Their First Baby Together
Another day, another exciting birth to celebrate. On Wednesday night, Dwayne Wade and Gabrielle Union welcomed their first baby via surrogacy. Union announced the surprise delivery via Instagram on Thursday.
If you're surprised about Union's birth announcement, you're probably not alone. The actress kept the news under wraps up until now, a decision she nor Wade has to justify. What's important now is the health and happiness of their little one, who made her grand entrance via a surrogate on Wednesday night.
The baby girl's name hasn't been released yet, but the couple did confirm they are beyond thrilled to expand their family. Union wrote in a message about the birth, according to Instagram:
A LOVELY DAY 👶🏾👶🏾👶🏾 We are sleepless and delirious but so excited to share that our miracle baby arrived last night via surrogate and 11/7 will forever be etched in our hearts as the most loveliest of all the lovely days. Welcome to the party sweet girl! #onelastdance #skintoskin @dwyanewade ❤👑
This is Wade's fourth child (he has two sons from a previous marriage, as well as nephew he raises), and Union's first. Union, as some fans might already know, has struggled with fertility issues in the past.
"I have had eight or nine miscarriages," Union revealed in her 2017 book, We're Going To Need More Wine. "For three years, my body has been a prisoner of trying to get pregnant — I've either been about to go into an IVF cycle, in the middle of an IVF cycle, or coming out of an IVF cycle."
The good news? Union was able to find a surrogate to carry her child to term, a development fans couldn't be more thrilled about.
"Congratulations Gab!!!!" someone wrote. "So very happy for you!!!!!! Thank you God!!"
"How awesome. 🙏 blessings to you and your family," another person said. "Welcome to the world."
One person chimed in: "This made me smile Im so truly happy for you both congratulations 🎈💐."
Unfortunately, there were a few critics in the bunch who accused Union of pretending to give birth in the photo because she wore a hospital gown. This accusation is not only hurtful, but it's simply wrong.
"Also, because people are so cynical, she is in a hospital gown because they need to be skin to skin to bond," one fan explained on Twitter. "It isn't about pretending to give birth. It's about the necessary bonding process."
Another person added:
Y'all real ignorant with these Gabrielle Union comments. 'Why she dressed like she had the baby.' Because if the birth mother was a surrogate, Gabrielle and the baby needs to bond- the baby hearing her heartbeat and getting Gabrielle's scent so she will know that's mommy.
Of course, Union doesn't have to explain herself to the naysayers. It's just sad that some people are trying to turn a beautiful moment into something negative.
Here's to Union and Wade's happy news, and to all of the beautiful memories they'll make together as parents.