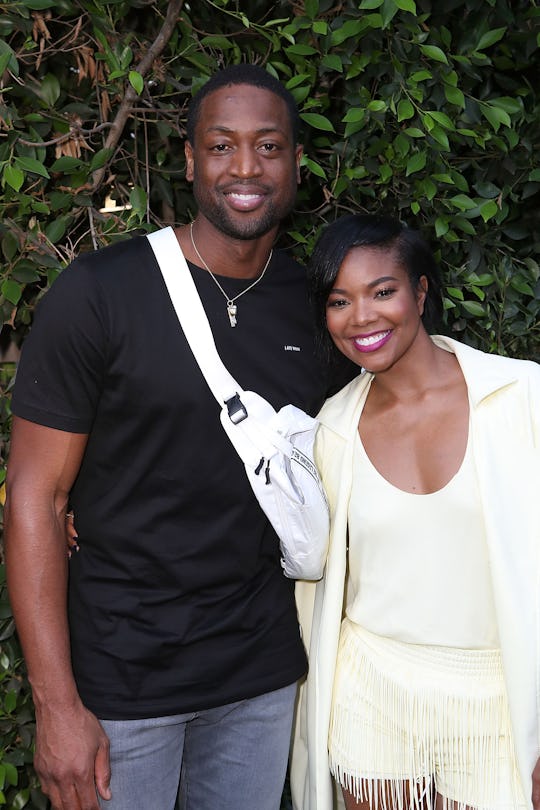 Ari Perilstein/Getty Images Entertainment/Getty Images
Gabrielle Union & Dwayne Wade's Baby Shower For Kaavia Included... A Puppy Pit
If you want to know how incredible Gabrielle Union and Dwayne Wade's baby shower theme for their daughter Kaavia was, all you need is two words: puppy pit. As in a fenced area loaded with puppies wearing sports jerseys that you could snuggle and cuddle... basically get your love on. That was just one of the amazing elements of their tailgate themed party, which the new mom shared all over Instagram.
On her Instagram Story on Monday, Union posted photos from the smash event which was a celebration of 1-month-old Kaavia James, according to People. The little girl was born Nov. 7 via surrogate, USA Today reported, as Union had struggled with infertility for years.
To welcome their daughter, Union and Wade pulled out all the stops, bringing in a marching band, dancers, hosting beer pong and photo booths, all alongside the aforementioned puppy pit. Their attendees seemed to have the time of their lives, and posted lots of pics themselves, including catching Union doing a keg stand that left her a little bit messy.
"Best children's party I've ever been to," cheered one of their guests, while another captioned their pic, "@gabunion knows how to throw a party."
Union and Wade waited a long time and went through a lot of heartbreak to arrive at this amazing celebratory moment. In her book, We're Going To Need More Wine, the actress got real about her struggle with IVF. "I have had eight or nine miscarriages. For three years, my body has been a prisoner of trying to get pregnant — I've either been about to go into an IVF cycle, in the middle of an IVF cycle, or coming out of an IVF cycle," she wrote, according to Glamour.
Even though the couple eventually decided to use a surrogate, Union was honest about her sometimes struggle with the choice. "Did I miss — did I fail in some kind of way? Did I — am I defective in some kind of deep, you know, just — am I defective in some kind of way? Am I less than in some kind of way? Am I less worthy in some kind of way?" she told Oprah she finds herself asking.
Kaavia's birth was a true moment of joy for the couple, which they announced on Nov. 8. "11/7 will forever be etched in our hearts as the most loveliest of all the lovely days," Union captioned an Instagram photo of the couple cuddling their newborn.
But all too soon Union has had to learn about mommy-shamers. Recently, trolls came out after she posted a video of herself kissing her baby girl on the lips, according to HelloGiggles, as some people were concerned about the fragile immune system of a newborn.
"This is NOT SAFE FOR BABIES although its adorable from The Gram," wrote one commenter. "Cute but our mouths hold many upon many germs that the babys system isnt strong enough to fight off," another person chimed in.
Of course, Union responded in the classiest way, according to Vibe, writing back:
Hey guys, I appreciate all the concern about kisses on the mouth and labored breathing. I am blessed enough to have a nurse here with us while at work. Kaav is healthy and I don't even touch her without washing and sanitizing myself and everything and everyone that comes into contact with her.
Congratulations to the happy couple, who celebrated their new little one in the very best, most creative of ways!
After experiencing a traumatic c-section, this mother sought out a doula to support her through her second child's delivery. Watch as that doula helps this mom reclaim the birth she felt robbed of with her first child, in Episode Three of Romper's Doula Diaries, Season Two, below. Visit Bustle Digital Group's YouTube page for more episodes, launching Mondays in December.