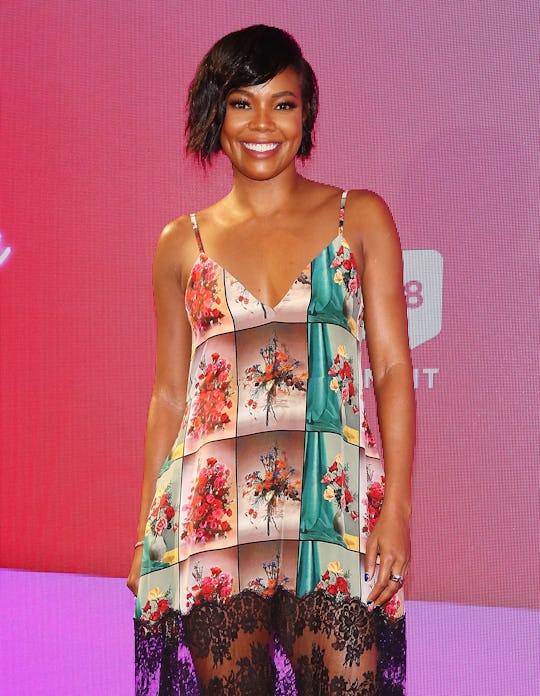 Astrid Stawiarz/Getty Images Entertainment/Getty Images
Every Mom Will Get Why Gabrielle Union Hasn't Bathed Since Her Baby Girl Arrived
The days, weeks, and — let's be honest, years — following the arrival of a new baby can be rough. While there are diaper changes, feedings, and cuddles galore, one thing is often in short supply: time for personal hygiene. One new celeb mom knows this struggle all too well already. As she shared recently, Gabrielle Union hasn't showered since welcoming her baby girl, but it's okay; she doesn't mind at all. The happy family is too busy loving on their little to step away for a scrub down.
Union and husband Dwayne Wade welcomed their "miracle baby" on Nov. 7, as The Washington Post reported. After suffering through "eight or nine miscarriages," as People reported, Union and her husband decided to go the surrogate route to grow their family. "For three years, my body has been a prisoner of trying to get pregnant — I've either been about to go into an IVF cycle, in the middle of an IVF cycle, or coming out of an IVF cycle," she wrote in her book We're Going To Need More Wine. Finally, doctors diagnosed her with adenomyosis, a condition that affects the lining of a woman's uterus and often complicates pregnancy.
Upon the news of their coming child, according to People, she and Wade were "bursting with love and ready to do anything to meet the child we've both dreamed of." Those feelings of commitment continued after their daughter made her arrival earlier this month. As Union shared to her Instagram Stories this week, she has more important things to worry about than showering.
This isn't her first social media update as a mom, though. Union's birth announcement tweet from Nov. 8 doubled as a sweet description of what parenthood feels like for her and Wade:
A lovely day. We are sleepless and delirious but so excited to share that our miracle baby arrived last night via surrogate and 11/7 will forever be etched in our hearts as the loveliest of all the lovely days. Welcome to the party sweet girl!
Aside from her date of birth and the way in which she has captured the hearts of her parents, little is known about Union and Wade's infant daughter. The couple has opted not to share her name with the world just yet, as Us Weekly reported, and her face doesn't appear to be visible in any of the photos that they have shared so far. Of course, it is completely up to the family if and when they open up about the details, but I can forgive them for being too busy doting on their daughter to talk much with the public.
Union isn't the only one getting in on the baby cuddles, though. In an Instagram post of his own, Wade shared a photo of him and his daughter catching a game. "Thanks for letting daddy watch some football!!" he captioned the post. "We're already working together well."
Wade's youngest joins his three sons from previous relationships — Zaire, 16, Zion, 11, and Xavier, 4 — as well as his 17-year-old nephew Dahveon who lives with the blended family, according to Page Six. These boys were the ones who first brought Union around to the idea of motherhood. "I never wanted kids," she told People in 2017. "Then I became a stepmom, and there was no place I'd rather be than with them."
From the looks of her Instagram Stories, she is perfectly content with life as a mom. Despite the sleepless nights, dirty hair, and perpetual state of "stink," she said she is in heaven. And with all of those newborn baby cuddles going on, who can blame her? Congrats to the happy family! Showers can certainly wait.