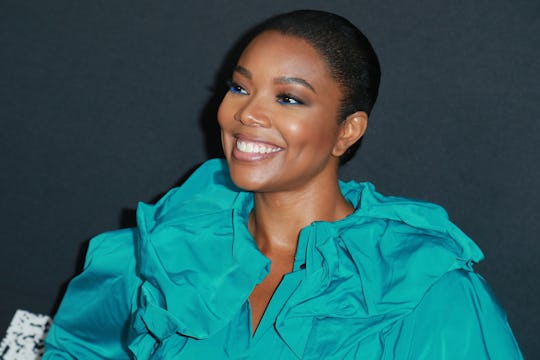 Leon Bennett/Getty Images Entertainment/Getty Images
Gabrielle Union Shut Down People Criticizing Her For Kissing Her Baby On The Lips
After actress Gabrielle Union and husband, basketball star Dwyane Wade, welcomed their first child together through a surrogate last month, she could not have more excited. This was because Union had experienced a series of miscarriages before turning to surrogacy. And now that Union has a child, she, of course, has to face the criticism that comes with being a mom. But, Gabrielle Union's response to people criticizing her for kissing her baby on the lips proves she's already a seasoned pro at handling the criticism.
On Thursday night, Union posted the sweetest video of her and her daughter, Kaavia James, to Instagram. In the video, Union can be seen giving her little girl multiple kisses in a row on the lips while Kaavia lays in her arms. You can sense how much love Union has for her little girl by watching the first three seconds of the video. "She's got my heart on a string," Union captioned the video.
But some people who watched the video were more distracted by how "unhealthy" Union's kissing was for her one-month-old daughter.
"It's unsanitary to kiss a baby on the mouth," one commenter wrote. "We carry bacteria from what we eat."
"Stop kissing the baby on the lips, it's not sanitary because she doesn't have all of her shots yet," another commenter added.
Other commenters pointed out that they thought it looked like Kaavia was "having trouble breathing." But, Union quickly assured her followers that her daughter's health is her top priority and that she would never put her in danger.
Union explained in the comments of the photo that she would never put her daughter's health at risk, especially since she's waited so long to have a kid of her own. Union wrote:
I am blessed enough to have a nurse here with us while at work. Kaav is healthy and I don't touch her without washing and sanitizing myself and everything and everyone that comes into contact with her.
Union explained that she even made sure that everyone (including crew members) that came into her home for her upcoming interview with Oprah was vaccinated so they could be around her daughter. Needless to say, Union is very concerned about her daughter's health and wouldn't be kissing her if she knew it was bad for her baby.
"If you think I waited this long and went through all this to put my baby in harm's way...you got another thing coming," Union explained.
She has a point.
Union and Wade welcomed their first child together exactly one month ago on Nov. 8, according to People. As previously stated, this was a long time coming — Union has stated in the past that she had "eight or nine miscarriages" and had been trying to get pregnant for a very long time before Kaavia was born.
So, Kaavia's birth obviously meant so much to Union and her husband who had been waiting for this moment for so long. "This little dynamo reminds reminds me to never give up on my dreams," Union wrote in an Instagram post a few weeks after Kaavia's birth. "Never give up hope and never think you are alone. Many people are suffering in plain sight."
Because Union has been so overjoyed about her daughter's birth, it hurts to see her be criticized about the silliest of things. And this wasn't the first time that she has faced backlash — when Union announced the birth of her daughter on Instagram, users questioned why she was wearing a hospital gown when she "didn't give birth," according to TODAY. And, as Wade explained during the upcoming interview with Oprah (which airs on Saturday on the OWN Network, according to PopSugar), these comments were incredibly hurtful to the couple.
"Once again, people were uneducated on the process and we decided to go skin-to-skin as soon as our baby came out," Wade explained, according to TODAY.
Union and Wade have handled all of the silly criticism amazingly well and have proven that they won't let the commenters bring them down no matter what. This is awesome, especially considering that this probably isn't the last of the criticism that Union will receive as a parent for the nest year, let alone for the rest of her daughter's life. And when this happens, it's rest assured that Union will defend her choices as a mother.
This first-time mom wants to have a home birth, but is she ready? Watch how a doula supports a military mom who's determined to have a home birth in Episode One of Romper's Doula Diaries, Season Two, below. Visit Bustle Digital Group's YouTube page for the next three episodes, launching every Monday starting November 26.