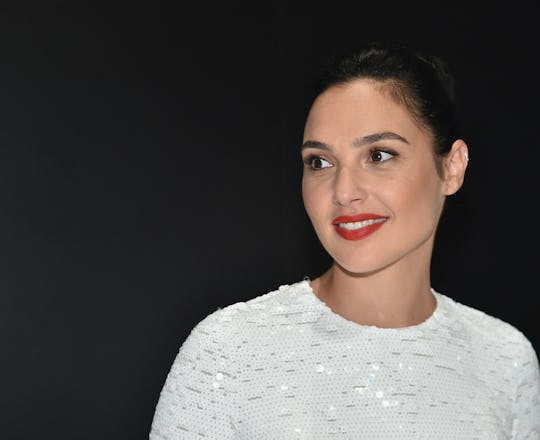 Mike Coppola/Getty Images Entertainment/Getty Images
Gal Gadot Shut Down Body Shamers & Her Words Are Powerful
Women are constantly the recipients of unneeded criticism. Whether it be comments about their bodies, their performance, or the decisions that they made, some people feel like all women need to hear their opinions of them. If this sounds familiar, you're not alone — even Wonder Woman, or at least actress Gal Gadot, who played the character in the 2017 film, has had to face it. But in a recent interview, Gal Gadot shut down body shamers who unfairly compared her to the comic book depiction of Wonder Woman, and her words matter.
Wonder Woman was undoubtably one of the biggest movies of 2017. The film, focusing on the powers of one bad ass female super hero from the Amazon did more than just inspire women all around the world, it racked up a ton money and broke a lot of records, too. This summer, Wonder Woman became the highest grossing film directed by a woman and the highest grossing film in the DC Extended Universe. Heck yeah.
But still, in spite of all of these amazing accomplishments, people still found a way to criticize the film and Gadot's appearance in it. Gadot told Rolling Stone all about how people were quick to criticize her for having smaller boobs (yes, really) than the "busty" comic book character:
I told them, "Listen, if you want to be for real, then the Amazons, they had only one boob. Exactly one boob. So what are you talking about here? Me having small boobs and a small ass? That will make all the difference.
Gadot's response to these body shamers is both hilarious and an important reminder for anyone disappointed by a movie's portrayal of their favorite character or book. Even if there is one minor thing about the character's appearance that is different than your expectations it doesn't change the movie or the meaning behind the film. Gadot gets responding to body shamers right — although according to CNN, Gadot is wrong about Amazon women only having one breast (not that it matters).
It was wrong for those people to call out Gadot's size, especially since she was pregnant with her second child while filming Wonder Woman reshoots — making her potentially one of the most bad ass pregnant women ever. "We cut open the costume and had this green screen on my bump," Gadot told Rolling Stone. "It was funny as hell — Wonder Woman with a bump."
Gadot is rightfully proud of the incredible success of the film, in spite of what haters had to say. "It just shows that the world was ready for a female-driven action movie," Gadot said. And they're definitely ready for one more; according to The Hollywood Reporter, Wonder Woman 2 is set to be released in 2019.