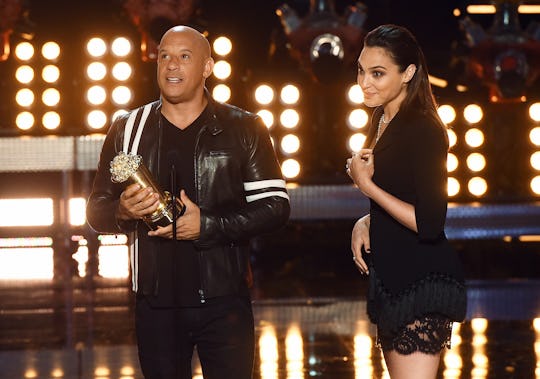 Kevin Winter/Getty Images Entertainment/Getty Images
Gal Gadot & Vin Diesel Are Parenting Besties In This Cute Photo
It's great to see when actors who play good friends onscreen are able to carry that relationship off screen, and that certainly seems to be the case for Vin Diesel and Gal Gadot, who worked together for years on The Fast and the Furious franchise. Despite the fact that Gadot has moved on from the massively successful franchise (to an even bigger project, no less), she's obviously keep a lasting bond with her co-star. Case in point: Gadot and Diesel posted a parenting photo on Facebook together on Friday, proving that their friendship is as strong as ever, that they're getting through the parenting thing together, and that, you know, they're possibly the most adorable co-stars ever, too.
Diesel took to his personal Facebook account to share the adorable photo of himself hanging out with friend Gadot. The two actors can be seen sitting on a scenic pool deck with two of their respective children. Diesel has three children with his longtime partner Paloma Jimenez: 9-year-old Hania, 6-year-old Vincent, and 2-year-old Pauline. Hania is pictured snuggling up to her dad in the adorable Facebook post, which Diesel captioned, "When we aren't playing superheroes... All love." Diesel and Gadot might not be suited up to fight crime in this photo, but it can't be denied that the two parents are superheroes in their own right.
Gadot is holding her newborn baby Maya in the photo, as well. The Wonder Woman actress welcomed little Maya back in March with husband Yaron Versano. While Gadot and Versano often post photos of their family on social media, this marks the first full picture of Maya to be released. It's no surprise that she's absolutely adorable, either. Maya is the second daughter for Gadot and Versano. They welcome their oldest daughter, 5-year-old Alma, in November 2011.
Gadot made headlines a few weeks ago after it was revealed that she filmed a number of action scenes for Wonder Woman while five months pregnant with Maya. Gadot is no stranger to doing her own stunts, of course: The actress did her own stunts while working on the Fast and the Furious with Diesel, as well. (She wore a green screen version of her Wonder Woman costume to hide her bump in the final cut of the film.)
It's great to see Gadot get a few moments to relax with her good friend and their two daughters in a beautifully scenic spot. After all the work they've been taking on of late, they definitely deserve it.