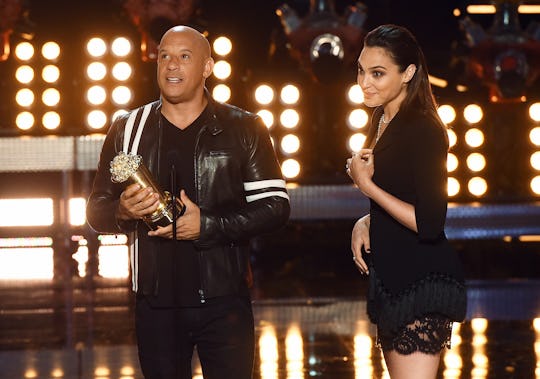 Kevin Winter/Getty Images Entertainment/Getty Images
Gal Gadot & Vin Diesel's Kids Had A Playdate
Gal Gadot might be best known these days for her totally badass turn as a female superhero in the hugely successful film, Wonder Woman. But before that, Gadot had already made a name for herself playing Gisele in the Fast & the Furious franchise — and, in the process, it looks like she also made some pretty solid friendships. Over the weekend, Gal Gadot and Vin Diesel's kids had a playdate in Los Angeles, and afterwards Diesel shared an adorable pic of the get-together on Facebook. In addition to being photographic evidence that the two stars honestly seem to totally adore each other, the photo also shows that, while both actors might seem like tough action stars on-screen, they're really just all about their kids when they're at home.
In the sweet snap, Diesel and Gadot can be seen sitting together outside at a home in the Hollywood Hills and cradling their children — the actor's 2-year-old daughter, Pauline, is snuggled on his lap, according to People, while Gadot is giving her 3-month-old daughter, Maya, a bottle. In the caption, Diesel wrote that it was "all love" between the former co-stars, and honestly, it definitely looked as though that were the case. While getting along well on-set doesn't always translate into an actual friendship, the two seem to be more than happy to be able to spend the day together with their families, with Gadot beaming as she looked over at Diesel in the pic.
Successful acting careers aside, it's not entirely surprising to see the two stars bonding over parenthood, as both are busy raising young children. While Gadot and husband Yaron Versano recently welcomed Maya into the world, they also share a 5-year-old daughter named Alma, according to Us Weekly. As for Diesel, he and girlfriend Paloma Jimenez have two other children, 9-year-old daughter, Hania, and 6-year-old son, Vincent, according to E! News. But Gadot certainly isn't the only Fast and the Furious co-star that Diesel became close to during filming — his youngest daughter is actually named after Paul Walker, who died in a car accident in 2013 according to Entertainment Weekly.
This also isn't the first time though that Diesel has given Gadot a loving social media shout out. Earlier this month, the actor took to Instagram to share a cute photo of the two of them together, and to offer his congratulations following Wonder Woman's record-breaking opening. In the caption, Diesel tagged Gadot and wrote, "There are no words I can [say] that can convey how proud I am of you ... Your [record] breaking weekend is nothing short of incredible."
As lovely as his message was, it was also very well-deserved. According to NPR, Wonder Woman not only surpassed box office expectations, bringing in more than $100 million domestically in its opening weekend (in large part due to Gadot's performance, which has earned the actress rave reviews). But it was also a massive win for director Patty Jenkins, too: according to NPR,Wonder Woman has become the most successful film directed by a woman.
The film's success helped Jenkins break other records, too — though given that it's 2017, they honestly feel simultaneously exciting and kind of depressing. Jenkins, for example, is now the first woman to ever direct a big-budget superhero movie, and she is also only the second female director in Hollywood to have ever received a production budget over $100 million. According to The Hollywood Reporter, the only other director to have had that opportunity was Kathryn Bigelow when she directed 2002's K-19: The Widowmaker.
There's no question though that Gadot, Jenkins, and Wonder Woman in general are totally dominating right now, and it's pretty great to see them getting the credit that they're due. And even though Gadot might have her hands full these with a tiny infant (as though she didn't already have enough to keep her busy), it's also so heartwarming to see her enjoying what appears to be a lovely family day out with a super supportive friend.