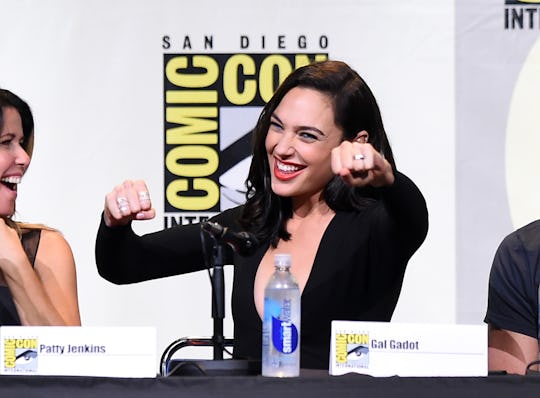 Kevin Winter/Getty Images Entertainment/Getty Images
Gal Gadot's Best Behind-The-Scenes Instagrams Are Badass
Gal Gadot is kind of a big deal at the moment. As the leading lady in the blockbuster summer film Wonder Woman, directed by Patty Jenkins, she's becoming among one of the most successful superhero actresses in the world, since the movie is one of the biggest films in theaters right now and has made hundreds of millions of dollars. So it's especially cool that Gal Gadot's best behind-the-scenes Instagrams give fans such a rare peek at her life in film, particularly when it comes to Wonder Woman.
According to Forbes, as Warner Brothers' latest release from its DC Comics universe, Wonder Woman flew past the $600 million mark worldwide on Wednesday. And Gadot is the title character, so you can bet she has some awesome stories from her time filming for the lead role in the superhero movie.
Her Instagram is full of shots from the set, and they're pretty incredible. Plus, other photos from Gadot's life, where some argue she's a "wonder woman" herself, are fun to look at too. It's awesome that she's so open about her life as an actress, especially for rabid Wonder Woman fans, eager for any scrap of information about the movie or what went into making it.
Some of her Instagram posts are photos, and others feature videos, like the one above. In the above video, which Gadot posted on June 19, both Gadot and Jenkins talk about some of their experiences filming Wonder Woman, and fans get to see everything from fight scenes, to poses, to pep talks.
Considering the character of Wonder Woman first appeared in a comic book in 1941, according to the Financial Times, a film of this magnitude about the character has been a long time coming. Every little snippet of how it came to be is fascinating for both longtime fans, and those who have only just now fallen in love with the warrior princess.
And Gadot delivers those snippets fairly often on her Instagram. In another recent post, Gadot spoke of her "#WonderWoman family" fondly, and the clips in the video she posted showed the cast laughing together as they worked hard on the film.
Gadot has shared still images that showed she was "always surrounded by such great people" when filming Wonder Woman as well.
All of the behind-the-scenes photos Gadot has shared on her Instagram account really show that she had an absolute blast filming the movie, and it looks like everyone she worked with did too.
And some people involved with the making of the film, like Zack Snyder, who cast Gal Gadot as Wonder Woman in the first place and produced and co-wrote the story for the movie, got personal shout-outs from Gadot on her Instagram.
Other posts showed just how close those cameras sometimes got to Gadot as she played Wonder Woman, in both Justice League and the Wonder Woman movie.
And this photo that Gadot posted is not technically a behind-the-scenes image from Wonder Woman, I just wanted to take the opportunity to put some goofy Chris Pine on your computer screen. You're welcome.
All in all, Gadot has been very open on her Instagram and other social media accounts when it comes to what it was like filming Wonder Woman. Seeing some of the more humorous behind-the-scenes Instagrams Gadot has posted online from her time working on Wonder Woman, you'd almost be tempted to say, "working hard, or hardly working?," huh?