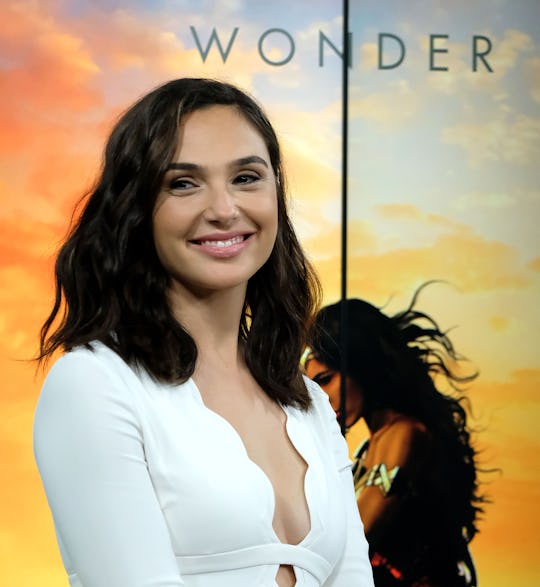 Theo Wargo/Getty Images Entertainment/Getty Images
Gal Gadot's Best Parenting Instagrams Are Empowering
There are probably a zillion reasons why fans are obsessed with the star of DC Comics' Wonder Woman, but this collection of Gal Gadot's best parenting posts on Instagram will make you love her even more. Aside from her incredible portrayal of an Amazonian warrior in the first female-led superhero film — which totally smashed box office records for female directors — the 32-year-old Israeli actress is also a mom to two incredibly cute daughters: 6-year-old Alma and 2-month-old Maya, whom she and husband Yaron Versano welcomed back in March.
It's hard not to admire Gadot, especially since she was pregnant with Maya throughout much of the filming of Wonder Woman and even finished shooting some additional scenes when she was five months into her second pregnancy, according to Entertainment Weekly.
"She's pregnant during part of the movie, in a suit out in a field in the freezing cold in others," Patty Jenkins, the director of the film, told Entertainment Weekly of Gadot's tireless work ethic. "Now, at least, we will be able to tell her [new] daughter Maya that she's in her mom's stomach right then, in the middle of that battle scene."
There's no doubt that she's a badass actress and total professional on-screen, but there are so many other reasons to love Gadot and many reasons why she exudes #momgoals.
If she's not sharing gorgeous photos of her bump or snaps of candid family moments, she's acting as a strong role model for her little girls — and for all womankind. Here are five of Gadot's best parenting posts on Instagram that show why she's a Wonder Woman at home, too.
She Values The Time She Has With Her Family
In an interview with Glamour, she once expressed concern about how her demanding work might impact her daughter and how becoming a mom changed her priorities.
"I started to choose my battles better," she told Glamour. "The Jewish guilt I feel about being a working mom is the hardest thing."
She's not alone: Mother's guilt is a real thing and almost every mom can relate.
She Won't Let Work Interfere With Being A Mom
In the same interview with Glamour, she explained that her husband helped her realize that being a working mom will inspire her kids later in life and, as a family, they'll do what it takes to be present for both. She said:
When Alma was around two, I was really anxious about how to travel with a child, moving her from one country to the other, all the different languages. It was my husband who told me: "Gal, think about what kind of a role model you want to be. If you want to show Alma that she can follow her dreams, that's what you should do, and we will figure out the logistics."
She Lives For The Surprises — Even If They're Hard To Accept
"This little lady has a beautiful soul, she surprises me everyday, I hope to always be able to brighten up her day like she does mine," she captioned this adorable photo.
For example, Gadot was surprised when her little girl showed just how mature and independent she's becoming. In an interview ESPN, she explained:
Recently my older daughter spent her first night out, a slumber party. And I thought I was going to get a phone call in the middle of the night. "Come get me. I miss you, Mommy. I want to be home with you." But...nothing. I was proud, but I felt like, uh oh, she doesn't need me. I think letting go is the hardest thing we need to learn.
Her Weekends Are All About Family & All About Being Lazy
This isn't the only time the mom of two has shown off how she likes to spend her weekends. In another post, she snapped a photo of the entire family vegging out on the couch while watching The Lion King.
It doesn't matter how you spend time with your family and it's clear that Gadot knows how important it is to build a strong bond with her girls, whether that's out hiking, doing an art project, or just relaxing together.
She's Teaching Her Girls To Be Wonder Women, Too
In the aforementioned ESPN interview, Gadot said the most important lesson she wants her daughters to learn from her is "how to love themselves" and "to not always try to get validation from others."
She also revealed once that a main reason she took the role in Wonder Woman was to empower her girls.
"People talk about women empowerment but you can't empower without educating," she said last month, according to Herald Sun. "And personally, as a mother of two daughters, I am just thrilled that finally it's happening. I am hoping that there will be more strong female figures."
You don't have to be a fan of the comic book franchise to appreciate Gadot's parenting wisdom. And now that she has another Wonder Woman in the making, hopefully she'll share even more gems like these.