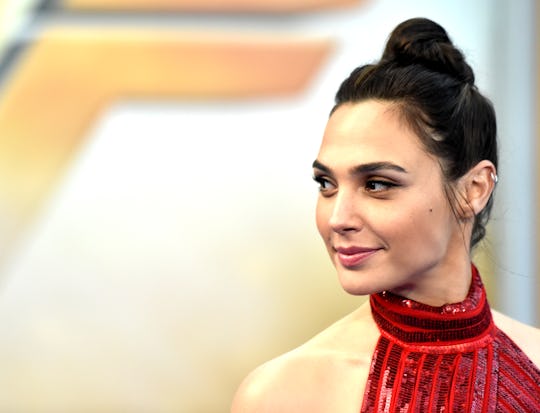 Frazer Harrison/Getty Images Entertainment/Getty Images
Gal Gadot Posts Makeup-Free Photo & An Inspiring Message
Unless you've been living off the grid or under a rock, you've probably been inundated lately with pictures of Wonder Woman star Gal Gadot looking glamorous as she walks the red carpet. But Gadot also took to Instagram recently to show that there's more to her life than dressing up or filming awe-inspiring action sequences. And Gal Gadot's makeup-free Instagram came with an important reminder about motherhood that you can appreciate even if you're not an action star.
The 32-year-old Gadot has two daughters with husband Yaron Versano. Turns out that 3-month-old Maya and 5-year-old Alma aren't about to let their mother sleep in all the time just because she's currently one of the biggest celebrities in the world. Gadot posted a no-makeup picture on her Instagram over the weekend after a sleepless night dealing with Maya's colic. But she also made it clear that she wouldn't trade her family for anything, writing,
Sleepless night, colic 3 months old baby and an early wake up by my 5 year old. Went to the garden to get some fresh air with my coffee to help me wake up and now watching The Cat In The Hat with my daughter. It always amazes me how the most simple things are the ones to make us the happiest.
The photo was taken by Gadot's husband, whom she called her "other sleepy half."
Gadot has made a splash lately by being all kinds of inspirational. Just look at all those squee-inducing photos of little girls dressed as Wonder Woman! (No seriously, go look. You back now? Great!)
But with Gadot's makeup-free Instagram, she kicked her relatability up a notch or ten. Even the woman who gets to break onscreen gender barriers like a total warrior, who captured the hearts of millions of fans, and whose star is certain to rise from here on out has her fair share of sleepless nights with an unhappy baby.
And while many may envy Gadot's glamorous lifestyle, her post serves as an excellent reminder that some of life's happiest moments don't necessarily come on the red carpet. They can be found, even in the midst of zombie-like sleep-deprivation, by simply cuddling up with your family and watching a silly movie.
Gadot has previously made it clear how much motherhood means to her, telling news.com.au,
It's cheesy, but I feel like Wonder Woman when I give birth. When you deliver, you feel like you're a god. Like, "Oh my God, I made this!" The best thing is to become a mother and to give life.
It's nice to know that, sometimes, the best way to feel like a superhero is just to hang out with the people you love.