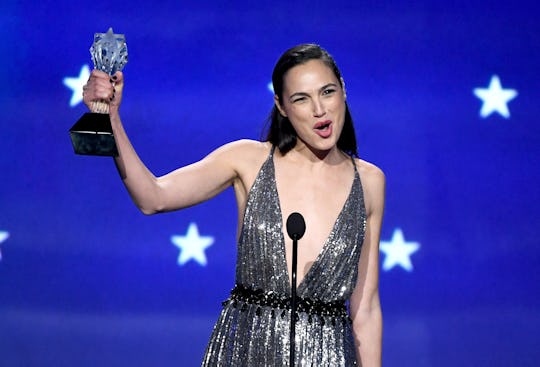 Kevin Winter/Getty Images Entertainment/Getty Images
Gal Gadot's #SeeHer Acceptance Speech Will Make You Channel Your Inner Wonder Woman
If there was one movie in 2017 that had the power to bring people together from all walks of life and backgrounds, it was, without a doubt, Wonder Woman. The Warner Bros. film based on the DC comic series took the box office by storm, and now Wonder Woman herself is being awarded for her role in the smash hit. Seriously, Gal Gadot's #SeeHer acceptance speech will make you want to put on your own superhero gear and get out there to take over the world. Yeah, it was that inspiring.
Thursday night, at the Critic's Choice awards, Gadot was honored with the #SeeHer award, in honor of her powerful voice to speak to justice for all, and for inspiring women and girls all over the world who look up to her. Gadot was presented with the award by Wonder Woman director, Patty Jenkins (a total boss lady herself), and Jenkins praised Gadot for her tenacity and strength. "She didn't do it for the glory, she didn't do it for the fame, she's not here for the money," Jenkins said, continuing, "she did it for us. She knew the great importance of this character and what she could mean to the world."
And if Jenkin's introduction is making you get a little teary-eyed, just wait until you hear what Gadot herself had to say.
After a powerful montage of Gadot's best work, she took the stage and tearfully thanked Jenkins for her lovely introduction. Then, Gadot began to talk about how proud she was to be able to play Wonder Woman.
She explained that, when she first started acting, she knew that she "wanted to portray a strong and independent woman, a real one." And so, when she was cast in Wonder Woman as the titular role, she saw that dream become a reality. For Gadot, Wonder Woman is more than just a superhero:
She's full of heart, strength, compassion and forgiveness. She sees wrong that must be made right. She takes action when everyone around her is idle. She commands the attention of the world. And in doing so, she sets a positive example for humanity.
Truly, Gadot's Diana Prince (Wonder Woman's human name) was all of those things, and more. The film raked in millions during its theatrical release, and according to Forbes, is officially the "highest-grossing superhero origin film of all time." But that's not what matters to Gadot.
For her, this job and her role as Wonder Woman is about so much more. "As artists and filmmakers I believe that it's not only our job to entertain, but our duty to inspire and educate for love and respect," she said in her speech, while also mentioning that one of Wonder Woman's most important qualities was that "She gets confused, insecure, and she's not perfect and that's what makes her real."
Now, considering that the #SeeHer award was established in order to "recognize the importance of accurately portraying women across the entertainment landscape," it makes sense that Gadot would win. After all, the year before Viola Davis took home the honor. Truly, some remarkable footsteps Gadot is following.
In concluding her speech, Gadot took the time to mention the reckoning happening in Hollywood and the Time's Up movement. "In the past weeks and months, we've been witnessing a movement in our industry and society, and I want to share this award with all the women and men who stand for what's right," she said. She wanted to share her #SeeHer award with everyone for "Standing for those who can't stand or speak for themselves."
Gadot also made a promise to her fans and everyone watching. "My promise and commitment to all of you is that I will never be silenced and we will continue to band together to make strides, uniting for equality." So, get a good nights sleep tonight, ladies, because that speech definitely made me want to take over the world tomorrow, and I'm sure it did the same for you.
Check out Romper's new video series, Romper's Doula Diaries:
Watch full episodes of Romper's Doula Diaries on Facebook Watch.