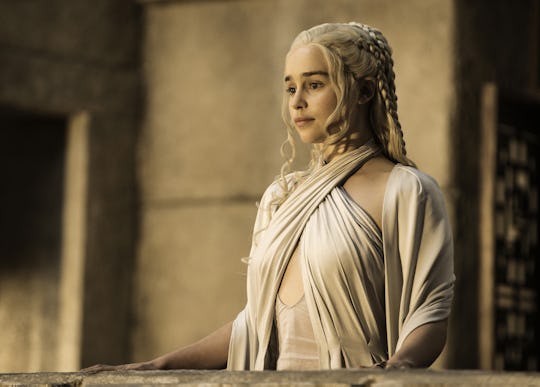 'Game of Thrones' Nominated for Golden Globes Best Drama Series Award For The 3rd Time, But Will They Ever Actually Win?
Could Game of Thrones finally win a Golden Globe for Best Drama Series? The 2016 Golden Globe nominations were announced on Thursday morning, and Game of Thrones was nominated for Best Drama Series for the third time (the show also earned Best Drama Series nominations for the 2012 and 2015 awards, but lost to Homeland and The Affair, respectively). So far, the only Golden Globe ever taken home by GoT was a Best Supporting Actor award for Peter Dinklage in 2012.
The show has won a handful of Emmys and Screen Actors Guild awards, mostly for behind-the-scenes categories, such as makeup, stunt work, and sound mixing. In a 2014 interview with Entertainment Weekly, HBO's programming president Michael Lombardo blamed the show's genre for distracting voters from the talent:
What frustrates me about the show is people really love and connect with the characters – but somehow, [the voters] don't put two and two together that there are great actors embodying those roles. There seems to be a disconnect. This would not work without compelling writing and unbelievable acting and superb direction. And I think that's part of the challenge of a show that's a genre show. I think people think the show is carried along on its production values.
I'll admit, before I watched Game of Thrones, I thought it was nothing more than a one-hour parade of boobs and dragons. And it's kind of hard to pay attention to the dialog when you're distracted by boobs and dragons; both are pretty compelling to look at. But GoT is much more than that. Those boobs are attached to women who have been through hell and back, some trying to claw their way to the throne that they believe is their birthright, some just trying to survive and reunite with their families. And the dragons… OK, they're pretty friggin' sweet, and don't serve a ton of purpose other than general dragoning (eating livestock, breathing fire, etc.), but they're really not even featured that prominently, I swear.
Perhaps the Golden Globes have finally caught on to what over 18 million people already see in Game of Thrones: great acting, compelling stories, and, OK, fine, some boobs and dragons. But a few boobs and dragons never hurt anybody.
Image: Helen Sloan/Courtesy of HBO