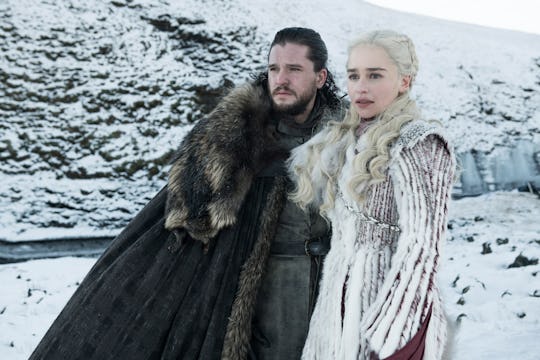 Helen Sloane/HBO
The New 'Game Of Thrones' Trailer Just Dropped & Fans Are Already Obsessed
After nearly two years of waiting, Game of Thrones fans are finally getting a sense of what the final season will look like. The new trailer shows glimpses of the show's most beloved characters and ends with a scene marking the Great War. Loyal fans are already brainstorming new GoT Season 8 theories based on the trailer alone, giving you tons to obsess over until the April premiere.
Warning: Game of Thrones Season 7 spoilers ahead.
Season 7 ended with the most anticipated bombshell of the entire series when Sam Tarly and Bran Stark finally compared notes to discover Jon Snow's true identity as heir to the Iron Throne. Jon's parents (revealed to be Rhaegar Targaryen and Lyanna Stark) were actually in love and married, which was fard different than the story Robert Baratheon told everyone. On her death bed, right after giving birth to Jon, Lyanna told her brother Ned Stark that Jon was to be protected, and that his real name is Aegon Targaryen.
All this was revealed while Daenerys and Jon were getting it on, which is awkward, because now fans know that the two are aunt and nephew. But fighting over the throne isn't going to be the pair's biggest priority in Season 8, because winter is here and the White Walkers are coming for Winterfell first.
The new trailer has a lot of intriguing scenes to unpack, so here's a breakdown of each scene along with a fan theory to munch on.