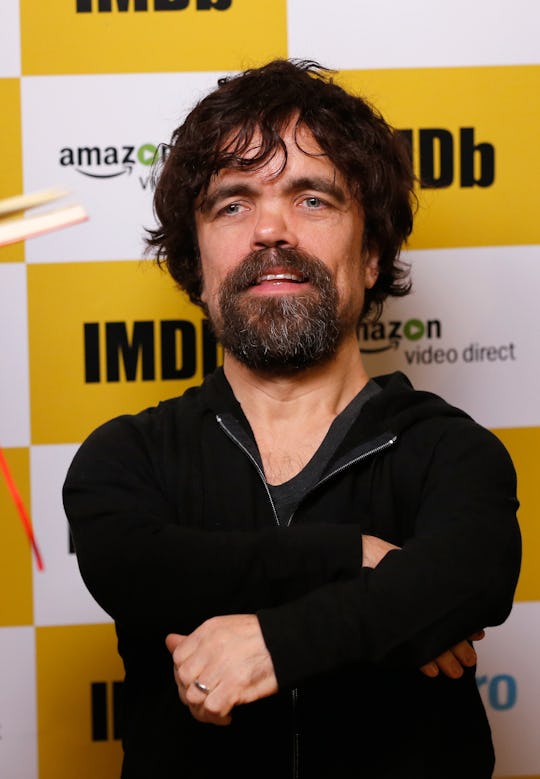 Rich Polk/Getty Images Entertainment/Getty Images
Peter Dinklage & Erica Schmidt Are Expecting
There's a new heir to the Iron Throne on the way: Just Jared has reported that Game of Thrones star Peter Dinklage and playwright Erica Schmidt are expecting their second child. People has confirmed the pregnancy with a "source," but all we needed for confirmation were the photos. On Wednesday night, the couple attended the red carpet premiere of All the Fine Boys, an off-Broadway play written an directed by Schmidt, starring Abigail Breslin. The cast posed for a playful shot with their hands on Schmidt's growing belly, so it's clear that this baby is no longer a secret.
But don't expect to see baby Dinklage being trotted out on the red carpet. The couple has a 5-year-old daughter, and they're so protective of her, nobody ever knows her name or date of birth. Though she's often referred to as "Zelig" by the tabloids, in 2015, Dinklage told the Guardian, "Let me tell you right now: her name is not Zelig. But it's hilarious that that's a fact in Wikipedia." Where did the fake name come from? Did her parents plant it as a joke, like the long-standing rumor that Sting and his wife have sex for seven hours at a time? I certainly hope so, because that's some next-level trolling.
Dinklage grew up in New Jersey, and according to People, he caught the acting bug at an early age when he starred in an elementary school production of The Velveteen Rabbit. His career struggled throughout the 1990s, because he refused to take the demeaning roles usually offered to actors of his stature. His first movie role somewhat mirrored real life, according to the New York Times; in 1995's Living in Oblivion, he played a disgruntled actor. A recommendation from costar Steve Buscemi led to another role, and by virtue of impressing and befriending more and more actors and directors, his career took off. He landed his breakout role in The Station Agent after running into director Tom McCarthy on the street, and he was Game of Thrones showrunner David Benioff's first choice for Tyrion Lannister because they knew each other through Benioff's wife, actress Amanda Peet.
Dinklage and Schmidt eloped in 2005, and they're just as private about their own lives as they are about their daughter's. After admitting to MovieWeb that he'd married Schmidt in Las Vegas, Dinklage followed up with, "I'm very private about that stuff. I can't believe I just told you all that." The most he's spoken about his daughter is when he mentioned in a 2012 Golden Globes acceptance speech that he'd left her with a babysitter for the first time that night. Pressed for more, he told People, "Everything's fine — so far. She's a baby. Crying never killed anyone." Sounds like they've got this parenting thing down.