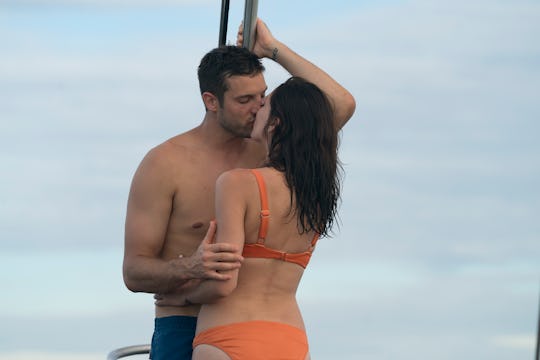 Paul Hebert/ABC
Garrett Finally Spoke About The Instagram Controversy On 'The Bachelorette'
On this season, Garrett has been one of the most controversial Bachelorette candidates. On "After the Final Rose," he finally got to speak for himself — on live television. Garrett addressed his Instagram likes on The Bachelorette finale and I was shocked that it was finally addressed, considering it hasn't been discussed on the show before.
Garrett firstly addressed that he posted an apology to his brand-new Instagram account when the controversy first came to light. He reiterated that he was sorry and didn't mean to hurt anyone's feelings. He said on After the Final Rose:
I stand by everything I posted in my apology and I'm just trying to grow as a person and be a better person on a regular basis. She's [Becca] helping me through everything. We've been honest and open and transparent with each other from the beginning. When that came out we attacked it, because when I was "liking" things, it was going against what she stands for and it made it really hard on us as a couple. When we started talking through that, we got through that together. We're growing, we're progressing, we're moving forward.
Chris Harrison then asked Becca how she felt about all this. Garrett's posts were sexist, transphobic, homophobic, etc. — while Becca is a known liberal who supported Hillary Clinton and the Women's March, so those types of posts don't seem aligned with what she believes. (Chris Harrison didn't say any of that — he just asked how she was doing.)
"There have been struggles and that was a major thing we had to talk about early on in our relationship," Becca revealed on After the Final Rose. "I got to know him for who he is ... on the show we don't have phones, we don't have social media, so I got to see who he is, his heart, his soul."
Becca did tell Chris Harrison and Bachelor Nation that she does not support what Garrett did. "The Instagram situation, I don't condone that," she said. "I know that he stands by his apology and he feels so bad for everyone that he did offend and he didn't mean it. I just want to move forward and to learn and to grow and to continue to educate ourselves and ... that's all you can ask for for another person if they make a mistake and do something wrong is they want to learn and grow from it. And that's what he's shown me."
Garrett was afraid he may have lost Becca due to the controversy, but she obviously has stuck by him. He was confident that he was "a better person than I presented on social media" and she knew he didn't mean to harm anyone. He said it actually made them stronger as a couple. Becca said that it's been a constant conversation between them — and that people have been mean to both Garrett and his family. Garrett said what hurt the most is that this situation hurt Becca and his loved ones. Becca said that while it was tough to go through, it never made her question her and Garrett's relationship.
I, for one, wasn't expecting the show to address the controversy at all — and some fans weren't buying what he was saying:
Well, regardless, it's not our relationship to fret over — it's Garrett and Becca's. As of now, they seem incredibly happy. Now that the season is over and they're "out in the open," so to speak, fans will see how their relationship evolves. In the meantime, though, it's time to get ready for Bachelor in Paradise and later, the next Bachelor.