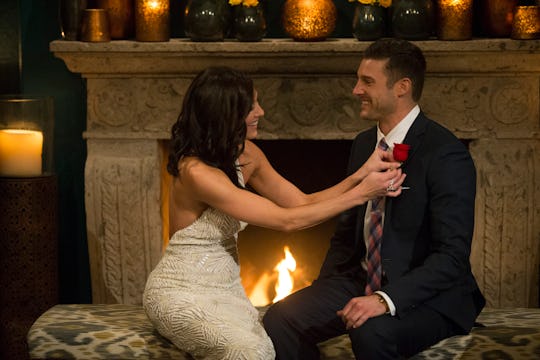 Paul Hebert/ABC
'Bachelorette' Fan Favorite Garrett Has Some Insta-Splaining To Do
When it comes to reality shows like The Bachelorette, events that unfold off-screen can be just as important as what happens on-screen. Garrett Yrigoyen emerged as one of the frontrunners of Becca's season after the premiere episode on May 28, but now that Garrett's alleged problematic Instagrams have surfaced, it could change how both Becca and the audience respond to him. Romper reached out to ABC about the situation, but they declined to comment.
The Huffington Post reported that on Instagram, Garrett has allegedly been liking posts that are homophobic, transphobic, and misogynistic, as well as posts that mock undocumented immigrants, liberals, and a Parkland high school student. While the site reported that his account was first made private before being deleted, it does appear to be public once again. No longer public is @imwatchingyuuo, the account that initially posted screenshots of Garrett's alleged likes, though they remain online regardless. Former Bachelor contestant, Ashley Spivey, posted them on Twitter, expressing frustration that there wasn't a more thorough social media screening before the suitor was accepted to be on the show.
Ashley mentioned Lee Garrett's racist social media posts from Rachel's season, saying that after that she "truly thought this would be something we paid better attention to." Then she expressed how difficult it would be to root for someone who liked the things that Garrett allegedly liked on Instagram before posting all of the screenshots.
The posts that Garrett may have liked were critical of liberals: one body-shamed a woman wearing a "feminist" t-shirt, while several others disparaged young men and boys who might have more traditionally feminine interests like makeup, implying they should be shooting guns instead. There were derisive memes about sanctuary states and safe spaces, as well as a transphobic post about Caitlyn Jenner.
Another post "joked" about physically throwing children over the border wall if they were undocumented immigrants. Another claimed Parkland student David Hogg was a "crisis actor" and not a real student, a theory that has been debunked by ABC7 News, among others.
It doesn't appear that Garrett himself has commented on the alleged Instagram likes or confirmed that they are, in fact, his. If they definitely are, then it would indicate a difference of belief between him and Becca; though she may not have announced her political leanings explicitly, her own social media accounts make it clear that she may not be a fan of the current president and she's taken part in women's marches.
Becca gave Garrett the first impression rose near the end of the premiere episode and said she was "smitten" with him as soon as he pulled up. A positive first impression generally means a suitor will go far in the show, and InStyle reported that Garrett might very well make it all the way to hometown dates. Since the show is filmed weeks in advance of airing, Becca was likely unaware of Garrett's supposed online activity (no access to the internet during filming probably also kept her from snooping) but she hasn't released any statements about how she feels now that these allegations have been made.
This isn't something that can change the course of the season since filming has already completed, but it may have an impact on how the audience responds to Becca and Garrett's unfolding courtship. They might not address his alleged Instagram likes until the After the Final Rose or Men Tell All specials, which are shot later and often discuss things that escaped coverage during the season. However, after both Lee and Garrett have had offensive online activity attached to them, it does leave one wondering whether or not the people behind the scenes should be taking a closer look at contestants before they're cast.