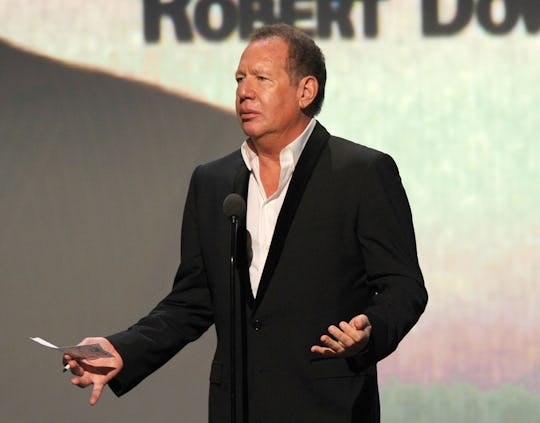 Kevin Winter/Getty Images Entertainment/Getty Images
Garry Shandling's Last Tweet Shows Why The Comedian's Talent Will Be Dearly Missed
Comedian Garry Shandling died unexpectedly on Thursday at a Los Angeles hospital, according to Variety. He was 66 and he reportedly wasn't struggling with any known illnesses. As comedians and friends of the The Larry Sanders Show host try to understand the sudden loss, many are turning to Shandling's last funny moments for comfort. Garry Shandling's last tweet proves why he was nominated for 18 Emmys throughout his impressive career.
No details were immediately released about the circumstances surrounding Shandling's death, and, honestly, that's not what fans and friends should be focusing on right now. Instead, people should remember and commemorate Shandling for his talents. Like The Hollywood Reporter noted, Shandling's career was a decades-long combination of cameos in films, standup on TV, and hosting late-night shows. Shandling also hosted for both the Grammys and the Emmy Awards several times, according to Variety.
In the days leading up to his death, Shandling was active on social media. Over the weekend, he retweeted a photo of himself with actress and comedian Kathy Griffin and Bob Odenkirk, the star of Better Call Saul. Griffin tweeted a sad message on Thursday after hearing of Shandling's death, according to the New York Daily News:
Sunday, my longtime friend Garry Shandling was here, making every1 laugh. I loved him. I'll miss our talks the most.
And, on March 18, Shandling even tweeted a joke about the GOP's plan to block Donald Trump from getting the nomination, proving just why his comedy was always dry, perfect, and relevant:
Shandling was combining two of the most notable battles of the last few months: the GOP's battle to block Trump from getting the party's nomination (Mitt Romney has called upon voters to help stop this) and Kanye West's eternal battle over being Kanye West. West joked in October that he was "definitely" running for president in 2020, though it's not so clear to everyone that it was actually a joke.
Shandling's joke was straightforward but oh-so-perfect, because it merged two of the biggest Twitter trends into one giggle-worthy tweet. It seems characteristic of his style, though the Daily News noted that it was Shandling's delivery that helped him stand out; specifically, his "dry delivery made mundane subjects funny." For example, Shandling once said:
I'm very loyal in relationships. Even when I go out with my mom I don't look at other moms.
Random and even quirky, but hilarious. Shandling will be missed by his friends and fellow comedians, and let's hope Kanye takes his advice to heart.