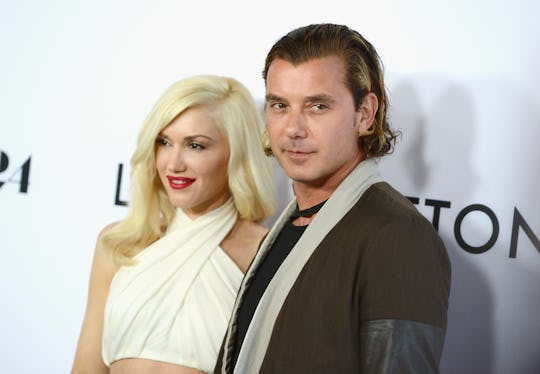 Jason Kempin/Getty Images Entertainment/Getty Images
Gavin Rossdale Finally Opens Up About His Divorce
Gavin Rossdale recently opened up about his highly publicized divorce from Gwen Stefani in a new interview with Fabulous. The musical pair separated in August 2015 after 13 years of marriage. While the No Doubt singer has spoken candidly about her break up in the past, this is the first time Rossdale has really told his side of the story. The Bush frontman admitted that divorce was the last thing he wanted and openly talked about his regrets — and overall, Rossdale's comments about his divorce from Stefani were real and relatable and honest.
Rossdale told Fabulous that "apart from death, I think divorce is one of the hardest, most painful things to go through." While many people often tell those dealing with breakups not to have regrets, it seems that Rossdale knows that that's easier said than done in relationships; He also owned up to the pain of his loss, as well as his own role in the divorce. The singer revealed that there definitely are some things he wished he had done differently when he looks back on his marriage. "I know we all wish that, but we can't, so I have to deal with reality," he said. "You can't not have regrets and be human at the same time."
Rossdale isn't only focusing on his regrets, though. He's able to look back on his relationship with Stefani fondly. "We had 20 years together and that in itself is pretty incredible. It's a lifetime. I still think she's incredible," he said of his ex-wife and mother of his children. "It was a lovely 20 years and we have three amazing children. There were a lot of positives, and with time they'll become more and more obvious."
Stefani is now famously dating country singer Blake Shelton. The couple met while working as judges on NBC's singing competition show The Voice. Rossdale has recently been linked Elin Nordegren, according to The Huffington Post.
Despite moving on to other relationships, Stefani and Rossdale are still committed to co-parenting their three kids. "We care about the children and it's about them," Rossdale said of their parenting partnership. "So we do everything to make this life change as seamless as possible."
It's never easy moving on from a long term relationship, especially when children are involved, but it seems like Rossdale and Stefani are just doing their best to make things work for their family, and reflecting on their time together like adults.
It's no easy task to be open about a previous marriage, but Rossdale's comments remind all divorced parents and newly single adults that it takes some time to bounce back — and that there's no such thing as a perfect person or perfect relationship.