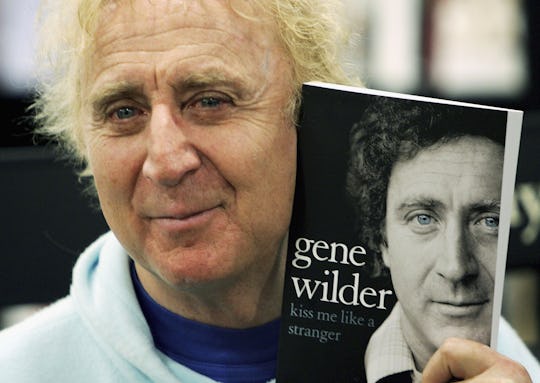 MJ Kim/Getty Images Entertainment/Getty Images
Gene Wilder Has Died At The Age Of 83
On Monday, everyone's favorite chocolate factory owner rode his glass elevator straight up into the sky. Beloved comedic actor Gene Wilder has died at the age of 83, his family says. According to his nephew, Wilder died of complications from Alzheimer's disease at his home in Connecticut.
Wilder specialized in playing neurotics, men who were perhaps slightly off but still immensely winning and hilarious. He was best known for roles like Willy Wonka in Willy Wonka and the Chocolate Factory, uptight accountant Leo Bloom in The Producers, and mad scientist Dr. Frederick Frankenstein in Young Frankenstein. He was nominated for an Oscar for his role in The Producers, and for another Oscar for co-producing Young Frankenstein with Mel Brooks, his frequent collaborator.
Though he received most of his attention for his onscreen portrayals, Wilder also directed movies like The Adventures of Sherlock Holmes' Smarter Brother in 1975 and The Woman in Red in 1984. The latter starred his wife, fellow comedic genius Gilda Radner, who passed away from ovarian cancer in 1989. After her death, Wilder founded a cancer support group called Gilda's Club. Wilder also wrote multiple books, like a 2005 memoir called Kiss Me Like A Stranger, which touched on his own battle with cancer. (He was diagnosed with non-Hodgkin's lymphoma almost two decades ago.)
Wilder had long-running creative partnerships with Richard Pryor, in buddy comedies like Stir Crazy, and Brooks. In fact, Brooks was the one to give Wilder his big break in movies. According to The Washington Post, the two met when Wilder did a play with Anne Bancroft, Brooks' girlfriend at the time. As Wilder said,
Mel said to me, "I've got a great idea for a movie, and you're the only one I want for this part." Three years went by, and I didn't hear from him, not a message, not a phone call. Then I was in [the Broadway comedy] Luv, and one matinee day I got a knock on my door, and he said, "You didn't think I forgot, did you?"
The movie was The Producers, and the world soon fell in love with Wilder. How could you not?
Over the past couple of decades, Wilder worked less frequently, with a high point being his guest-starring role on Will and Grace, for which he won an Emmy.
He leaves behind his fourth wife, Karen Boyer, a nephew, Jordan Walker-Pearlman, and legions of fans who will greatly miss the legend's charm, humor, and pure imagination.