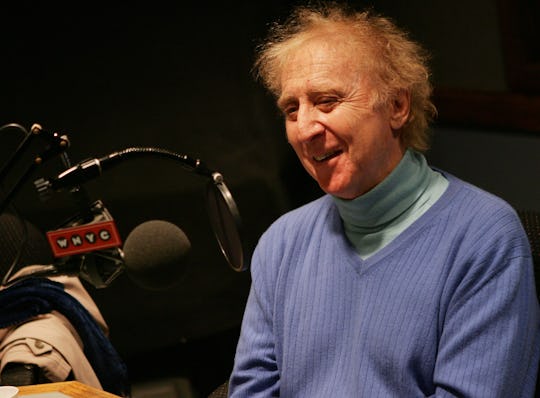 Evan Agostini/Getty Images Entertainment/Getty Images
Gene Wilder Quotes That Will Make You Miss Him
On Monday afternoon, Gene Wilder's nephew confirmed the late actor's death at the age of 83. The Willy Wonka star died at home in Connecticut of complications from Alzheimer's disease, which his family had kept private in the most Gene Wilder-esque way — he didn't want people to know so that there wouldn't be "one less smile in the world," his nephew, Jordan Walker-Pearlman, said in a statement. Though the news was heartbreaking, the statement was just the last positive wish in a long list of Gene Wilder quotes and moments guaranteed to make you smile and miss his love of life.
Walker-Pearlman explained, "The decision to wait until this time to disclose his condition wasn't vanity, but more so that the countless young children that would smile or call out to him 'there's Willy Wonka,' would not have to be then exposed to an adult referencing illness or trouble and causing delight to travel to worry, disappointment or confusion."
Wilder was just a happy guy on and off screen. In his nephew's statement that even though he was sick, he was living life to its fullest. "He continued to enjoy art, music, and kissing with his leading lady of the last 25 years, Karen," he wrote. Pearlman added, "He danced down a church aisle at a wedding as parent of the groom and ring bearer, held countless afternoon movie western marathons, and delighted in the the company of beloved ones." That sounds like a good life.
But Wilder always had a positive, easy going outlook. Here are some quotes if you want to get in on those good vibes and remember him.
On Making People Laugh
I'm funny on camera sometimes. In life, once in a while. Once in a while.
I write funny. If I can make my wife laugh, I know I'm on the right track. But yes, I don't like to get Maudlin. And I have a tendency towards it.
On Being Easy Going
I never used to believe in fate. I used to think you make your own life and then you call it fate. That's why I call it irony.
Time is a precious thing. Never waste it.
On Just Being A Good Guy
If you're not gonna tell the truth, then why start talking?
Invention, my dear friends, is 93 percent perspiration, 6 percent electricity, 4 percent evaporation, and 2 percent butterscotch ripple.
Gene Wilder was a legend who knew what he was talking about. And even though it's sad that he's gone, all you have to do is queue up one his films and lose yourself in the fun. He would probably be all about that.