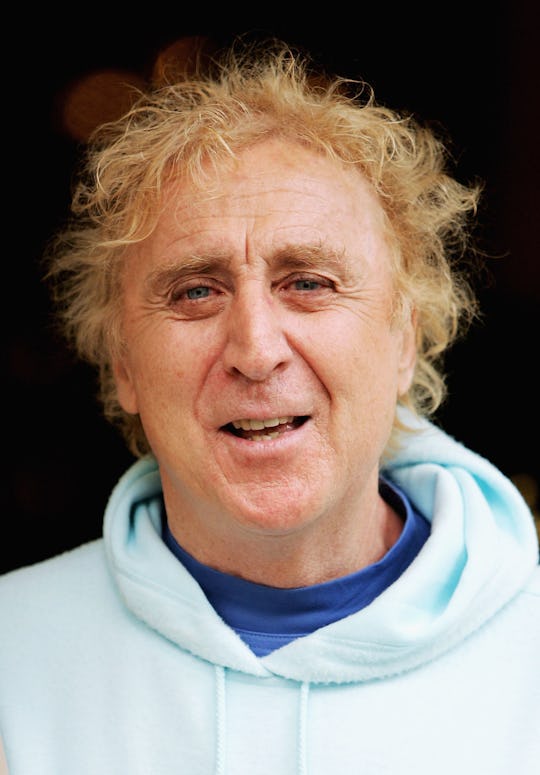 MJ Kim/Getty Images Entertainment/Getty Images
Gene Wilder's 92nd Street Y Interview Is Honest, Funny & Delightful To Watch
Gene Wilder died late Sunday at his home in Stamford, Connecticut of complications from Alzheimer's disease, according to a statement released by his family. Wilder was an influential figure, actor, and iconic comedian known for classic films including, Young Frankenstein, The Producers, Willy Wonka & The Chocolate Factory, and many more. His work will forever be admired. Perhaps most telling was Wilder's 92nd Street Y interview in 2013, which captured the actor's honest perspective on Hollywood films, his career, and his relationship with other actors like, Richard Pryor.
Wilder sat down with Robert Osborne at 92Y and discussed a multitude of things: Willy Wonka fans, and the film's remake starring Johnny Depp, working with Richard Pryor, The Producers, and why he hadn't been in films in years.
In the beginning of the interview, Wilder insisted that he wasn't the "funny guy" fans assumed him to be in real life. But throughout the interview, his candid remarks, unsurprisingly, yielded much laughter from the audience nonetheless.
Wilder told Osborne that he hadn't appeared in very many movies, partly due to the excessive "swearing" in films:
The swearing, and the loud... after a while... they were dirty, and once in a while a nice, a good film, but not very many.... Later on, I said... "If something comes along that's really good, and I think I'll be good for it, I'd be happy to do it." But not too many came along, I mean the came along for the first... But then I didn't want to do the kind of junk I was seeing, I didn't want to do 3D for instance... so much swearing going on. If someone said "oh go f-ck yourself." Well if it came in to a meaningful place, I'd understand it.
His honesty throughout the interview is refreshing. When asked about his thoughts working in Hollywood, Wilder hilariously responded "yuck."
"Yuck, I don't like it" he said, which was followed by laughter from the audience.
Watching the interview, it's apparent his personable and honest demeanor made audience members comfortable, and kept them engaged – all while laughing despite his initial humble opinion that he wasn't a "funny guy."
Wilder's nephew, Jordan Walker-Pearlman, released a statement explaining Wilder's Alzheimer's disease and why the actor didn't disclose his condition:
We understand for all the emotional and physical challenges this situation presented we have been among the lucky ones — this illness-pirate, unlike in so many cases, never stole his ability to recognize those that were closest to him, nor took command of his central-gentle-life affirming core personality. The decision to wait until this time to disclose his condition wasn't vanity, but more so that the countless young children that would smile or call out to him "there's Willy Wonka," would not have to be then exposed to an adult referencing illness or trouble and causing delight to travel to worry, disappointment or confusion. He simply couldn't bear the idea of one less smile in the world.
Check out Wilder's full vibrant interview on 92nd Street Y below: