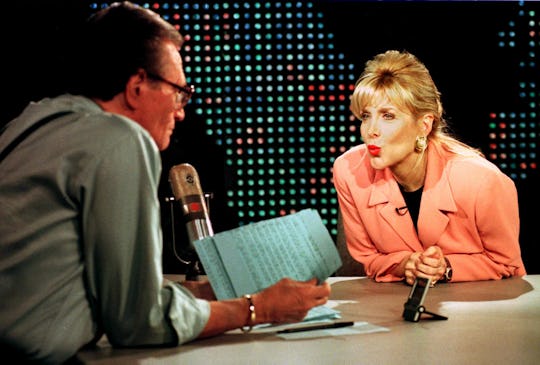 RENE MACURA/AFP/Getty Images
Gennifer Flowers Attending A Presidential Debate Says Everything About Donald Trump
To say that this year's election has been a ruthlessly cutthroat political spectacle would be understatement and the Republican candidate just took it went a step further. In a tweet on Saturday afternoon, Donald Trump threatened that Gennifer Flowers would attend the presidential debate and it really says everything about the GOP nominee. For reference, decades ago Bill Clinton admitted to having a sexual relationship with Flowers. Just hours after Trump's tactless and taunting tweet, the 66-year-old former model announced that she has accepted his invitation.
This isn't the first time that Trump has referenced the 42nd president's past infidelity, but this latest jab at the Democratic candidate is an even clearer indicator of his sexist character that will likely rear its ugly head in the future, with more harmful repercussions, if Trump wins the presidency.
According to CNN, the billionaire's tweet was in response to Mark Cuban — a prominent Trump critic — who plans to sit in the front row of Monday's debate after he was invited by Clinton's campaign.
"If dopey Mark Cuban of failed Benefactor fame wants to sit in the front row, perhaps I will put Jennifer Flowers right alongside of him!" Trump originally tweeted on Saturday afternoon. He quickly deleted the original tweet and posted the same message with the correct spelling of Flowers' first name.
Within hours, Flowers announced on Twitter that she'd be in Trump's "corner" at the presidential debate and added a kiss emoji:
Flowers, who was once an Arkansas state employee, said she had a 12-year sexual affair with Bill Clinton during his 1992 presidential campaign. In 1998, the former president admitted under oath to one sexual encounter with her in 1977 during his tenure as Arkansas governor.
Trump's invitation to have Flowers sit front row just days before the first presidential debate appears to indicate that the Republican candidate might use the could-be first husband's past marital infidelities and alleged sexual misconduct as a tactic to humiliate his rival. This might be because Trump has already attacked Bill Clinton's sex life on the campaign trail and on many social media platforms.
The Democratic nominee has been heckled many times during her campaign and has declined to comment on many occasions over her husband's alleged and admitted extramarital affairs. But, if Trump's move on Saturday is any indicator of this Monday's debate, it's likely these transgression will be brought up again at some point.
While both candidates bring plenty of baggage to the table, hopefully the answers to the pressing issues that American voters want to know will take center stage.