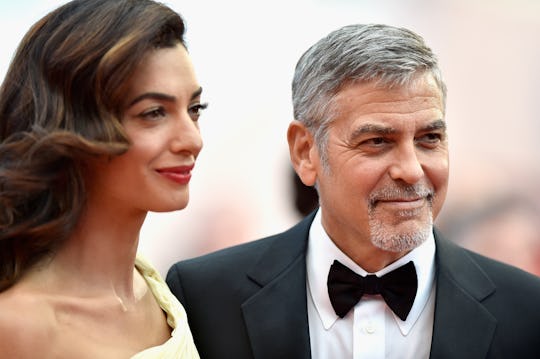 Pascal Le Segretain/Getty Images Entertainment/Getty Images
George & Amal Clooney Donated $100,000 To Help Separated Families At The Border
As reports about the U.S. government separating immigrant families at the United States-Mexico border spread across the United States, more and more people are demanding action from Trump. New reports from Trump administration officials on Tuesday reportedly stated that 2,342 children have been separated from their parents at the U.S. and Mexico border between May 5 and June 9, according to Vox. That's hard to hear — especially for parents with young children of their own. On Tuesday, Human rights lawyer and activist Amal Clooney and husband George Clooney donated $100,000 to help separated families at the border for one very important reason — they want to lead by example for their own kids.
The Trump administration is reportedly separating 65 children a day at the border, according to Vox, due to Trump's "zero tolerance" policy of cracking down on immigrants who "cross the border illegally." These children, including babies and toddlers are being placed in "tender age" shelters, according to TIME. As activists and founders of the Clooney Foundation for Justice, George and Amal are helping in this fight to protect these children.
The Clooneys told People that they are donating $100,000 with their foundation to the Young Center For Immigrant Children's Rights — a charity dedicated to advocating for unaccompanied immigrant children. As parents to two young children — 1-year-old twins, Ella and Alexander Clooney, according to People — it shouldn't come as a surprise to anyone that the couple cited their children as their inspiration to donating money in the fight to help separated families.
The White House did not immediately respond to Romper's request for comment in regards to the policy.
The Clooneys told People in a statement:
At some point, our future children will ask us: 'Is it true, did our country really take babies from their parents and put them in detention centers?' And when we answer yes, they'll ask us what we did about it. What we said. Where we stood. We can't change this administration's policy but we can help defend the victims of it.
Not only are the Clooneys donating money to help these young children maintain their rights and navigate their way back to their parents — but they are setting an example for their own children to ensure that they know their parents did their part in helping kids just like them.
If parents are feeling inspired by the Clooneys and want to set an example for their own kids, they can easily do so. There are other charities out there, just like the Young Center for Immigrant Children's Rights, that are doing their part to help migrant children and their families at the border, according to Elle.
People can easily donate money through Facebook to RAICES, the Refugee and Immigrant Center for Education and Legal Services, which provides legal representation for immigrant children and their parents as well as providing funds for paying parents' bond. The ACLU, or the American Civil Liberties Union has filed lawsuits to reunite children with their families, according to Mic, and donating money to the organization can help them continue this fight.
But if people want to donate money to multiple charities, ActBlue has put together a fundraiser that will evenly allocate money from every donation to 12 separate and "critical groups" working to protect kids separated from their families, including the ACLU and the Young Center for Immigrant Children's Rights.
Although people might feel helpless when it comes to this "zero-tolerance" policy, donating money just like Amal and George have done can show everyone — including kids — that they're doing their part to help. And if everyone were to help just a little bit, it could really go far in making a change.