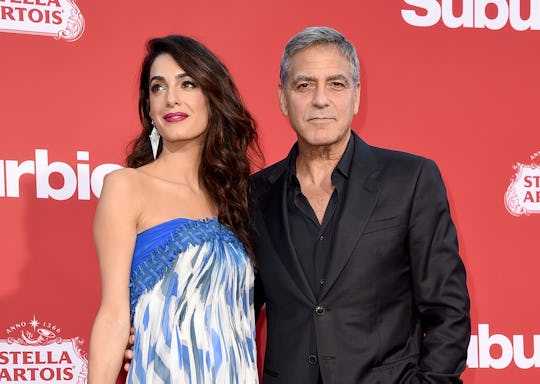 Kevin Winter/Getty Images Entertainment/Getty Images
George & Amal Clooney Reveal Their Twins' First Words, & Prepare To Say "Awww"
It might seem like it was just yesterday that George and Amal Clooney welcomed their twins, but little Ella and Alexander are actually almost a year old now. A lot has happened in those first 10 months of parenthood, including some very memorable milestones. For example, in a new interview with Vogue, George and Amal Clooney revealed their twins' first words and prepare to instinctively say, "awwww!"
In the interview with Vogue, Amal explained that her 10-month-old twins are actually already starting to mutter a few words and what they've picked up on so far will make any warm-blooded human melt. "We've had some 'Mamas' and 'Dadas,'" Amal told Vogue for its May issue.
How cute is that? As any parent can recall, it was probably such a joy for George and Amal to hear their babies call them mom and dad for the first time. But that's not even the best part. Continuing her interview with Vogue, Amal also explained that "George was very careful to ensure that 'Mama' was the first word." Such a gentleman, isn't he?
The happy parents got married in 2014, and have since remained pretty private about their new lives together and as parents to Ella and Alexander. But now, the Clooneys are sharing more about themselves — and not just about parenting. In the same interview with Vogue, Amal also revealed how she and George met, fell in love, and made it work.
But, going back to their babies' first words, while it might not seem that impressive that the twins' first words was "Mama," their timeline is pretty advanced. The twins aren't even a year old, yet they're already (sort of) talking. And, according to WebMD, that's ahead of schedule. "Most babies say a few simple words like 'mama' and 'dadda' by the end of 12 months," the site noted.
So the fact that Ella and Alexander are already saying those things at just 10 months is pretty impressive. Really, though, it's not surprising that the twins are a little advanced. After all, "Amal is a human rights lawyer who worked on the Enron case, was an adviser to Kofi Annan regarding Syria and was selected for a three-person U.N. commission," as Tina Fey relayed during her presentation at the 2015 Golden Globes. Understandably, her children are pretty smart. And that's not even the cutest thing about the Clooney twins.
The parents, who both work, hired the help of childcare expert Connie Simpson when they welcomed Alexander and Ella into the world. The nanny-to-the-stars recently spoke to People about what it was like to be around the two little ones. Fondly, she told the magazine, "It was really funny because the little girl was such the essence of her mother and the little boy is the essence of his dad." According to People, Simpson literally came out of retirement in order to work with the Clooney family, and it's obvious that she's loved getting to know the kiddos.
Further explaining how each kid has taken after one parent, Simpson told People, "The look that George has in his movies, his son was showing that too and I just thought that was the cutest thing." And that's not all, of Ella, Simpson added, "She just has that daintiness and that beautiful glow like Amal has."
Life is clearly going pretty well for the Clooney family of four and from the moment the new parents met, it was clear they were destined to be together. "I was taken with her from the moment I saw her," George said of his wife, and Amal agreed, telling Vogue, "It felt like the most natural thing in the world."
Now, they have their own family, and are clearly blissed out on parenthood, "mamas" and "dadas" and all.
Check out Romper's new video series, Bearing The Motherload, where disagreeing parents from different sides of an issue sit down with a mediator and talk about how to support (and not judge) each other's parenting perspectives. New episodes air Mondays on Facebook.