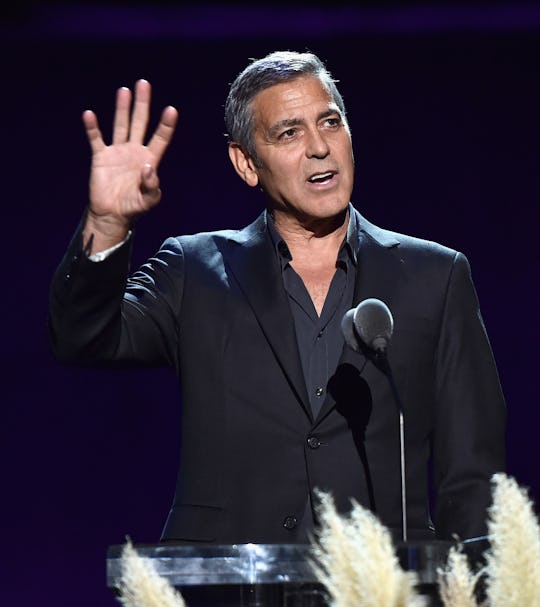 Alberto E. Rodriguez/Getty Images Entertainment/Getty Images
George & Amal Clooney Aren't Picking Baby Names — Yet
Highly-accomplished human rights lawyer Amal Clooney and her husband, some dreamboat actor named George, are expecting twins, and the internet is freaking out. (Will the Clooney duo be best friends with the Beyoncé babies? Fingers crossed!) In a recent interview, George Clooney discussed fatherhood, and proved that he too is thrilled about the impending additions. He seems to be ready for his children in all ways but one — he and Amal have yet to pick out baby names.
E! News caught up with Clooney at CinemaCon in Las Vegas, where Clooney was promoting his upcoming movie, Suburbicon. When asked about his wife's pregnancy, Clooney said,
Can you believe it?! Yeah, [I'm] even happier [than before.] I didn't know that we'd have kids. I was very happy that we were going to get married and then [a pregnancy] seemed like the next step.
But Clooney was quick to note that he and Amal hadn't yet decided what to name their twins, and would likely wait to do so until the babies were born. "I've had friends pick out names around their parents and then it becomes... whatever name you pick they're like, 'Oh, I don't like that. That guy's a prime minister… Can't name her Susan. You remember your Aunt Susan?'" Clooney joked.
That might be an excellent call. The power of pre-birth baby name judging is strong, and can make expectant parents feel terrible.
George, 55, and Amal, 39, got married in 2014. News broke of Amal's pregnancy back in February, and Amal is reportedly due in June. Although for many years, George had expressed that he didn't think he'd ever become a father — even telling People back in 2006, "I don't have that gene that people have to replicate" — meeting Amal seemed to shift things for a guy who used to be one of Hollywood's most notorious bachelors. Discussing how meeting Amal changed him, he told People in 2015,
All I know is that it sort of changed everything in terms of what I thought my future – my future personal future – was going to be. I've always been an optimist about the world. I wasn't always completely optimistic about how it was going to work out personally for me. But now I am.
Fans are optimistic, too, about the ability of George and Amal to raise a couple of brilliant, beautiful, wildly talented babies. And given how brilliant the duo are themselves, it's probably safe to assume that whatever names they end up with will be better than "Aunt Susan."