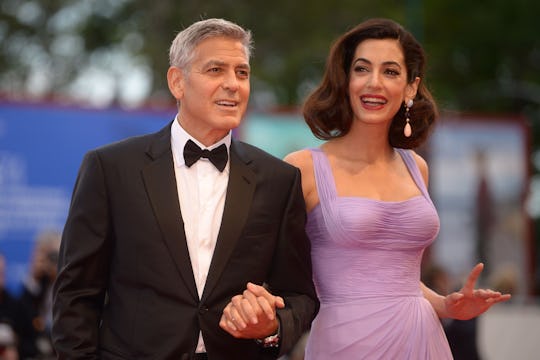 FILIPPO MONTEFORTE/AFP/Getty Images
George Clooney Says The Twins Have Very Different Personalities
Ever since it was announced that longtime Hollywood bachelor and silver fox George Clooney would be a father, the world lost all chill. Pretty much everyone and their grandmothers wanted to know everything about Clooney's future children. And even though Clooney's wife, Amal, is a superhero by her own right (she's a hugely successful human rights lawyer and literally the one who pushed the babies out of her body), people are still incredibly excited to see Clooney become a father. And now, in one of his first interviews since their birth, Clooney said the twins are actually very different, and the world has once again become shooketh.
Speaking to Entertainment Tonight, Clooney gave an exclusive interview while promoting his new film, Suburbicon, at the Venice Film Festival this weekend. While he, of course, talked about his film, Clooney also took some time to answer a few (burning) questions about his twins. After his wife, Amal, gave birth to Alexander and Ella in June, neither parent has really said much about the twins. But now, Clooney has revealed in the interview that "they start out with a personality right off the bat." And while little Alexander and Ella might be twins, they apparently couldn't be more different.
In describing little Alexander, Clooney told Entertainment Tonight that he "is a thug already," gesturing to Matt Damon. He went on: "You saw him. He's a moose! Literally, he just sits and he eats." The thug comparison continued as Damon went on to say that he could picture Alexander as a bouncer, with Clooney agreeing, "Like, checking IDs on the way into the nursery."
Ella, on the other hand, is the picture of class and grace. "She's very elegant, and all eyes," Clooney told Entertainment Tonight. "She looks like Amal, thank god."
And while the couple has yet to release any photos of the babies (which they have every right to hold back and it's so important to respect the privacy of new parents regardless of who they are), with parents like the Clooneys, it's pretty safe to assume that they're both gorgeous.
Of course, while the world once again totally loses its cool now that Clooney has revealed some adorable details about his children, it's important to remember that Amal carried the babies for nine months, and then went through labor. While she may keep a low profile, she's still a total boss lady, and deserves our respect.
As "everything changes pretty quickly," when you become a parent, as Clooney previously told Entertainment Tonight, it's important to give the new family privacy and respect as they continue to settle into parenthood. And, while they do that, let's all imagine the hilarious sibling dynamic that will soon unravel between Alexander and Ella.