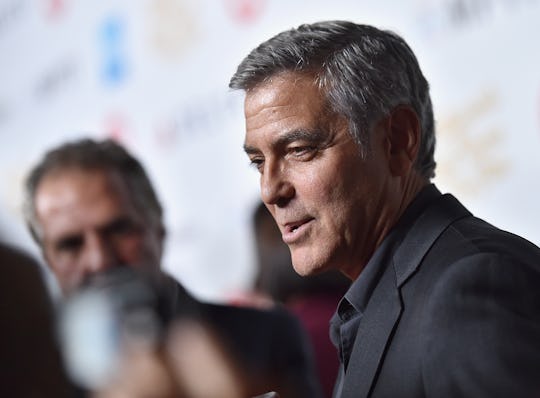 Mike Windle/Getty Images Entertainment/Getty Images
George Clooney Speaks Out About Becoming A Father
International and human rights lawyer Amal Clooney and her husband, actor George Clooney, announced last week that they're expecting twins. Many have been curious to hear George's thoughts on becoming a first-time dad at the age of 55. On Tuesday, George Clooney speaks out about becoming a fatherhood in an interview with Laurent Weil in France, according to PEOPLE.
Clooney, who was being honored at The Caesar Awards, gushed over the baby news when reporters asked about the announcement, "We are really happy and really excited. It's going to be an adventure. We've sort of embraced it all…with arms wide open."
The couple married in 2014, which put an end to Clooney's near-lifetime of being one of the most eligible (and sought after) bachelor's in Hollywood. Since his early days on ER to his blockbuster hits like O Brother, Where Art Thou?, Up In The Air, Ocean's Eleven, and The Perfect Storm, Clooney has been part of the superstar celebrity fabric for decades. Some were surprised that he didn't marry a fellow actor: his wife Amal, 39, is an accomplished Lebanese-British, Oxford and NYU-educated, human rights attorney who has also taught at the Columbia School of Law.
The twins will be both Clooney's first children. In his interview in France, George said they feel very supported by their friends and family — even if they did get a little teased when they made the announcement: "Then it got really quiet, and they all just started making baby crying noises. And the whole table just busted up laughing."
In the same interview, 55-year-old Clooney also gave a shout out to French actor Jean-Paul Belmondo — who became a father in his 80s. "I'm feeling a little better about being 56 by the time [the twins arrive]," Clooney told the show's host.
As far as Clooney's friends go, fellow actor Matt Damon couldn't be more excited for the couple: "I'm thrilled for him. She's amazing. He hit the jackpot. Just on every level. She is a remarkable woman. They're gonna be great. They're gonna be awesome parents. Those kids are lucky," he told Entertainment Tonight Canada.
2017 is shaping up to be the year of twins: Beyoncé and Jay Z, another celebrity power couple, are also expecting twins. In a world that's been feeling pretty devoid of good news, these announcements are certainly exciting — and we'll take a double dose of joy any day.