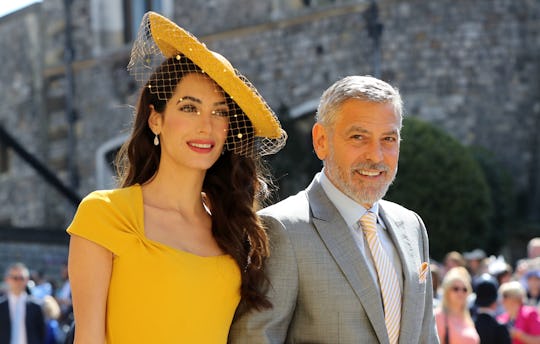 WPA Pool/Getty Images Entertainment/Getty Images
George Clooney Cracked A Hilarious Dad Joke About The Twins For Their First Birthday
George Clooney has proved himself to be a pretty fun dad, after his wife, Amal Clooney, gave birth to their children — a pair of twins — a little more than a year ago. It's been one great year for both George and Amal, considering how highly they speak of parenting and their children when they have the opportunity to talk about them. And George Clooney's latest update on the twins really proves that he's already an expert at parenting, especially when it comes to cracking dad jokes.
Ella and Alexander Clooney were brought into this world on June 6, 2017, according to People, and it sounds like not much has changed from last year — especially when it comes to the couple's sense of humor, releasing a hilarious statement at the time. "Ella, Alexander, and Amal are all healthy, happy, and doing fine," the couple said in a statement at the time. "George is sedated and should recover in a few days."
Clooney's humor about his kids has continued exactly one year later. During a red carpet appearance at the taping of his AFI Lifetime Achievement Award, Clooney joked to Us Weekly that his kids celebrated their first birthday in style — by getting drunk? "Well, the kids got drunk," Clooney said, according to Us Weekly. "I don't know what you guys were doing, but I came home, they had a bottle of booze. It was really embarrassing but they're feeling better today."
Classic dad joke.
It is important to remember that he is, of course. No parent would ever let their one year old ever pick up a bottle of alcohol, let alone get drunk from it. But in typical Clooney fashion, he had to make a joke about it — and honestly? The joke was pretty good.
Clooney continued to make more dad jokes about his kids, telling Entertainment Tonight on the same night that his kids could barely enjoy their birthday celebrations because they were jet lagged. Clooney said, according to Entertainment Tonight:
They were kind of on Europe time, so they were sleeping most of the day. We had a cake, [we were] waiting, and we wake them up and show it to them, and then they go back to sleep.
At least Clooney is keeping it real.
Clooney seems super happy to be celebrating his kid's birthday. Clooney admitted to Entertainment Tonight that out of all of his iconic roles, his favorite role he has ever played is "dad" (awwwwww) and told Us Weekly that he can't wait to show his kids some of his more family friendly movies like the animated film, Fantastic Mr. Fox. Clooney told Us Weekly:
That they'll be able to watch fairly soon. I wasn't one of those guys who did movies for their kids, because I didn't have any, but now I've got one, so they're going to watch that. I've done a lot of things they can't watch.
The good thing is, when his kids get older, they will be able to have a very fun bonding moment with their dad (and really be able to enjoy his sense of humor).
All jokes aside, Clooney takes his role as a dad super seriously. In September, Clooney told Entertainment Tonight that becoming a father made him "older." "It doesn't fundamentally change you, but I'm excited to see who these two people are going to be in life," Clooney said. "I'm very proud to be [a dad]. I feel honored to be a part of it."
It is clear that Clooney has loved being a parent during his first year of doing just that. The great thing for fans is that he has a lifetime of dad jokes to improve on.