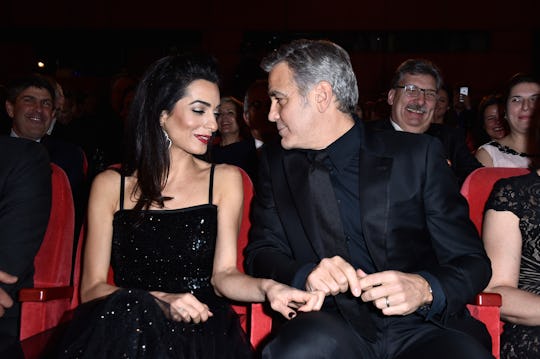 Pascal Le Segretain/Getty Images Entertainment/Getty Images
George Clooney's Statement About The Twins Is Old School
The big day is here: George and Amal Clooney announced that they welcomed their twins, Ella and Alexander, into the world Tuesday morning, according to People. Likely due to the intense public anticipation ahead of the birth, the couple opted not to wait long before revealing the news, but even though George has only just become a father, he seems to have nailed his first lame dad joke. George Clooney's statement about Amal's delivery included both a sweet update on his family, as well as a quip about his own "recovery" — in other words, pretty much what you'd expect from the actor. The statement read,
This morning Amal and George welcomed Ella and Alexander Clooney into their lives. Ella, Alexander and Amal are all healthy, happy and doing fine. George is sedated and should recover in a few days.
A first-time dad at 56, George's statement definitely seems like the kind of thing that a man who was once well known for being a suave, childless bachelor might say after his wife gives birth. But of all the things he could have chosen to announce following his twins' arrival, the suggestion that the birth was hardest on him — even as a lighthearted joke — is a little eye-roll inducing.
Sure, the trope of the overwhelmed first-time dad passing out in the delivery room while his wife bravely soldiers is one that might not be entirely off the mark for some new parents — it can feel pretty scary and helpless to watch your partner give birth, after all. But unlike in previous generations, when dads weren't always so involved with the birth (or when they weren't even in the room at all), these days, dads and partners often play an important supportive role. Maybe Amal did do all of the work (after presumably also spending around 40 weeks carrying two babies), but that doesn't mean that labor and delivery shouldn't still be a team effort.
In general, George's comment doesn't really seem like the type of thing a lot of new dads would say anymore, but the fact that his wife happens to be Amal Clooney only makes his words seems more out of place. After all, Amal is a highly-accomplished human rights lawyer who speaks three languages, and has represented a number of high-profile clients (including former Ukranian Prime Minister Yulia Tymoshenko and WikiLeaks founder Julian Assange), according to Business Insider. Earlier this year, she earned global praise after delivering a powerful speech to the United Nations urging for action against ISIS and advocating for victims of the terrorist group's crimes, according to The Independent. Of all the women who might possibly enjoy jokes about men who couldn't hack it in the delivery room, she doesn't exactly seem like she'd be one of them.
It's not exactly the first time though that George had played the "clueless dad-to-be" card during Amal's pregnancy. In March, the actor told Extra that Amal's pregnancy had been pretty relaxed, and that Amal was "doing great." As for himself? He quipped, "I don't have anything to do. There is nothing I can do to help, but make tea and stuff."
And most recently, after explaining that his twin's fast-approaching due date had kept him from appearing at the Aurora Prize for Awakening Humanity ceremony in Armenia, according to People, George joked,
I really would have been there, but if I came there and my wife had twins while I was there, I could never come home.
(Pregnant wives never let their husbands have any fun!)
Of course, George's comments were likely in jest, and he has also spoken more seriously about the couple's mutual excitement about the pregnancy and the twins' arrival. Chances are he really was supportive and involved during the birth, and that he was jut as supportive and involved during the pregnancy, too.
But let's also hope that maybe this will also be the last we hear about George finding his twins' birth so taxing that he needed to be put out. Dads deserve more credit than that, after all.