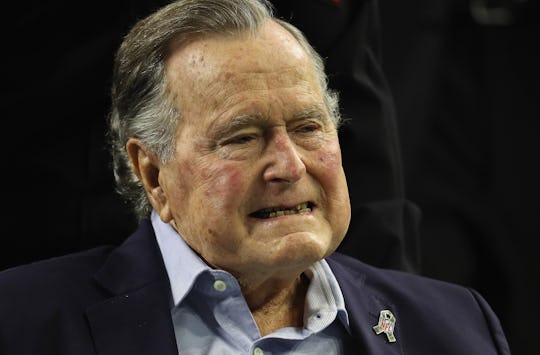 Patrick Smith/Getty Images Sport/Getty Images
Twitter Has A Few Problems With George H.W. Bush's Apology For Allegedly Groping Heather Lind
It seems like we can't go a week nowadays without a hearing another story about a famous person allegedly sexually assaulting someone, but it's still shocking every time another accusation comes out. But while we're used to hearing flat-out denials, the latest story is rather different. George H.W. Bush's apology for allegedly groping Heather Lind came out quickly after the accusation, and while the former president didn't exactly deny the actress' account, it didn't quite confirm it, either. The phrasing isn't sitting well with the public, many of whom feel that it deflects any blame for the incident.
Lind made her accusation in a now-deleted Instagram post:
When I got the chance to meet George H. W. Bush four years ago to promote a historical television show I was working on, he sexually assaulted me while I was posing for a similar photo. He didn't shake my hand. He touched me from behind from his wheelchair with his wife Barbara Bush by his side. He told me a dirty joke. And then, all the while being photographed, touched me again. Barbara rolled her eyes as if to say ''not again''. His security guard told me I shouldn't have stood next to him for the photo.
In a statement to the Daily Mail, Bush's representative responded, "President Bush would never - under any circumstance - intentionally cause anyone distress, and he most sincerely apologizes if his attempt at humor offended Ms. Lind." The apology doesn't acknowledge any wrongdoing, implies that whatever Bush might have done was unintentional, and worst of all, makes it seem that Lind's allegation of sexual assault is somehow due to her lack of a sense of humor.
Bush and Lind's encounter took place at a private screening for the series premiere of AMC's TURN: Washington's Spies in Houston in 2014. Lind played Anna Strong, a member of Culper Spy Ring during the Revolutionary War.
Bush's statement also fails to address the roles of Barbara Bush and the unnamed security guard, both of whom Lind claims were complicit in the alleged assault. A representative told Romper that the Bushes have no further comment.
Lind's description of the security guard and former first lady's reactions seems to imply that they were accustomed to such behavior, which, if true, begs the question, how many times had they seen it before?
Lind apparently believes she wasn't Bush's first alleged victim, as she wrote in the deleted Instagram post, "It seems to me a President's power is in his or her capacity to enact positive change, actually help people, and serve as a symbol of our democracy. He relinquished that power when he used it against me and, judging from the comments of those around him, countless other women before me."
The vague phrasing of Bush's statement is familiar; apologies are demanded from countless celebrities on both major and minor issues these days, and all too often, they (and their spokespeople) use this linguistic trick to have their cake and eat it too.
Apologizing "if I offended" has three benefits. First of all, it "counts" as an apology without ever actually admitting to, or apologizing for, the offending act itself. It also implies that the inciting incident was the accuser taking offense, rather than the offending act. Finally, the word "if" suggests disbelief at the very idea that the accuser is offended.
Basically, "I apologize if I offended" looks like "I'm sorry" on the surface, but roughly translates to "I didn't do anything wrong, you're crazy, and you're also possibly a liar."
Some people are accepting the former president's apology, but many have seen through it and are demanding better.
The old trope that a woman who's sexually harassed or assaulted simply "can't take a joke" didn't go unnoticed, either.
Quick humor tip: if somebody "can't take" your joke, it's not a joke.
Making someone feel uncomfortable, either physically or with words, is not funny; it's predatory. Don't do it, don't excuse it, and don't ignore it.
The most disturbing part about Bush's statement is that it sounds as if he doesn't realize what he allegedly did was wrong, and made no attempt to examine his actions. It helped nobody and changed nothing. Lind deserves better.