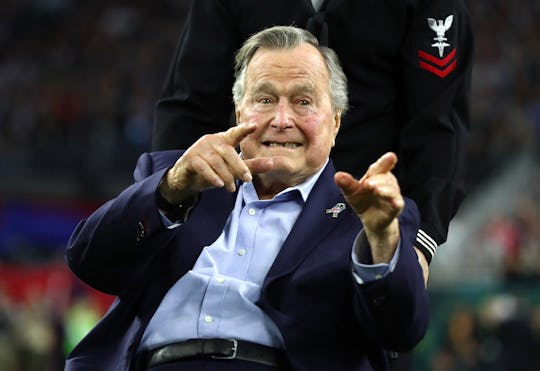 Al Bello/Getty Images Sport/Getty Images
George H.W. Bush's Quotes About Family & Fatherhood Show Why He'll Be Missed
On Friday, Nov. 30, former President George H.W. Bush passed away at the age of 94. His funeral on Wednesday was packed with a crowd full of political leaders and other important figures. The former president's children made up some of the attendees, of course, including his son, George W. Bush, who offered the eulogy. These George H.W. Bush quotes about family and fatherhood show why his family will miss him so dearly.
George H.W. Bush served as the nation's 41st president from 1989 to 1993, as reported by Biography. He passed away after a variety of health complications. According to WebMD, the nation's 41st president had vascular parkinsonism, which is a condition resulting from "one or more small strokes." He was admitted to Houston Methodist Hospital in April, just a day after his wife Barbara Bush's funeral, "after contracting an infection that spread to his blood", a family spokesman reportedly told The Washington Post.
The former president's funeral took place at the Washington National Cathedral, as reported by People, with all five living presidents in attendance, as well as their wives, a number of former vice presidents, and politicians and dignitaries from around the world. Of course, Bush's family was a large part of the service as well.
Here are some of the former President's quotes on family and fatherhood.