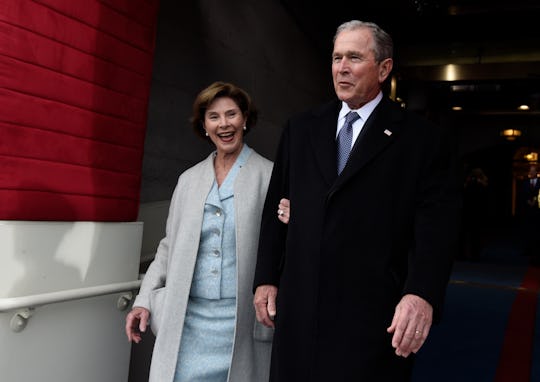 Pool/Getty Images News/Getty Images
George & Laura Bush's Unique Grandparent Nicknames
Grandparent nicknames are nothing new, and most families have at least a couple. In my family alone, we've got one Oma, one Abuelito, one Grandma, and one Bill, all names that developed pretty organically as our family's troupe of kids grew up. However, other families' nicknames can get a lot more creative than a simple "Abuelito" or "Oma." Case in point? Former first lady Laura Bush recently shared what her grandkids call her and her husband, President George W. Bush, and the two monikers are unique, to say the least: According to New York Magazine, George and Laura Bush's grandparent nicknames are Mimi Maxwell and Jefe.
The Bushes have two grandchildren, 3-year-old Mila and 1-year-old Poppy, the young daughters of Jenna Bush and husband Henry Hager. At the Women Making History Awards last week, Laura delved into how little Poppy and Mila came to call their grandparents their unusual nicknames.
First of all, according to The Washington Post, Laura said she was a bit put off by the way grandparents chose their own nicknames these days (rather than sticking to a simple Grandma and Grandpa). "Now it's kind of like choosing a name for your cat," Laura said.
Apparently, the name the president wanted his grandkids to use for him was "Sir." But as his daughter Barbara Bush explained at an event in 2014, that just didn't seem right. "Instead of calling him 'Sir' we're calling him 'Jefe,' which means 'Chief' in Spanish," Barbara said, according to People. "Mila is being raised to call her grandfather Jefe, which is cute."
The "Mimi Maxwell" nickname, however, has yet to be explained in depth. "Barbara and Jenna emailed they think my grandparent name should be 'Mimi Maxwell,'" Laura said in 2014, according to People. Apparently, the name dreamed up by the twins stuck, because at the event last week, she said her granddaughters still call her Mimi Maxwell. Mimi for short, I suppose?
It also sounds like George and Laura are enjoying their time outside of the White House and with family, however. In March, President Bush told People:
You want to play a video game, I'm the guy. I'm probably undermining every lesson that Jenna and [her husband] Henry are trying to teach little Mila but, you know, what the heck?
After all, that's what grandparents are for, right? Ice cream, video games, and creative nicknames. And it sounds like Mimi Maxwell and el Jefe are loving every single part of being a grandparent.